Samsung AV-R3000 Digital Receiver
Filed under: Receivers & Processors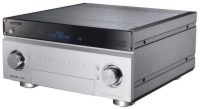 Samsung re-announced the company's first 7.1 channel AV-R3000 A/V Receiver. It features HDMI switching, 7-channel pure digital performance, and an analogue up-scaling feature using the Faroudja DCDi chip set.
The AV-R3000 has both DVI and HDMI switching. The AV-R3000 features four HDMI inputs, two DVI inputs, one HDMI output and one DVI output maximizing the number of pure digital connections to accommodate a large variety of today's digital components.
The 250 watts/channels x 7 allows the receiver's digital amplifier to deliver dynamic, detailed audio at low to medium volumes as well as at the highest volumes. The device is rated to 8 ohms, with just 0.005% THD over the entire range of audible sound (20 Hz~20kHz).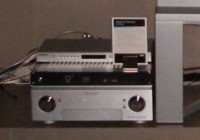 The top-of-the-line receiver also features comprehensive audio enhancements in order for movies and music to fill the room with brilliant sound. There is a built-in room equalizer that measures the acoustic responses at the user's listening position and compensates the frequency response, delay time and gain for all channels. A high quality Sound Field Effect Processor provides DSP effects and an Audio Direct Mode delivers crystal clear audio quality on every channel. The Multi-Zone function allows users select different audio/video sources for multimedia entertainment in up to three different rooms simultaneously. And 192kHz/24bit Analog-to-Digital and Digital-to-Analog converters ensure optimal sound from any source.
The AV-R3000 is designed for smooth picture delivery with fully HDTV-compatible inputs, providing superior image precision at hi-definition resolutions (480p, 720p, 1080i). The A/V receiver upgrades any non-copyright-protected analogue video signal to the highest possible analogue video output, with video signal up-scaling and Faroudja DCDi for progressive video.
The device offers expandable features to allow compatibility with future generations of home theater components, such as an 8-channel external input & output, RS-232C, and a DC trigger out equipped with 2 systems of 12V trigger out connections. Convenient operation is assured with Samsung's AnyNet system, which provides easy control of compatible equipment with a remote graphic user interface. An IEEE 1394 interface provides advanced connectivity, enabling direct digital transfer for DVD-A & SACD signals.
The AV-R3000 also includes all of the standard audio decoder features (DTS Neo:6, DTS-ES Matrix 6.1, DTS-ES Discrete 6.1, DTS 96/24) and is equipped with Dolby Digital, Dolby Digital EX and a Dolby Pro Logic IIx Decoders. The receiver also features Dolby Headphone and an HDCD Decoder. The AV-R3000 Digital receiver will be available with an MSRP of $4,999. (There is conflicting release date data with one press document stating September 2005 and another stating January 2006 - the latter being more likely due to an underwhelming amount of publicity surrounding the unit at Samsung's booth.)
Please visit www.samsung.com for more information.