ReQuest AudioReQuest Media Server
Filed under: Miscellaneous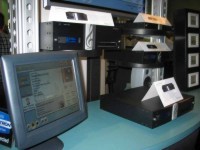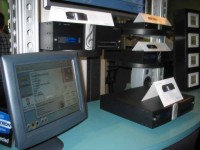 AudioReQuest units rip CD's to the hard drive in around 3 minutes. The unit I saw could hold around 500 CDs in .wav format. The unit defaults to auto-ripping any inserted CD to MP3, though that can be changed by the user. Up to four zones can be controlled independently one of which can utilize the Crestron unit showcased. The others use wall-mounted displays.
Stated features include:
Advanced Music System
Instantly access your entire music collection by Genre, Artist, Album, and Song Title.
Build custom playlists for simplified access to your collection.
Enjoy intuitive and easy to use interfaces.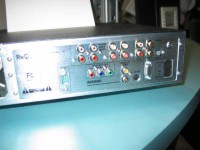 Multi-source Design
Add Zone units for unlimited multi-source access to your collection.
Each Zone unit automatically updates and backs up your collection via NetSync™.
Features QuickSwap™ chassis with removable AudioReQuest drives.
Integration and Control
Integrate seamlessly with all major control systems, including Crestron, AMX, Elan, Xantech, Pronto, Vantage, ADA, RTI, and Netstreams.
Built-in TV interface for standalone and modulated IR systems.
ARQConnect protocol for Serial and Ethernet control.
Keypad-friendly QuickPlay commands.
Multi-location Capability
NetSync AudioReQuest units over the Internet using ARQLink.
Works over standard DHCP broadband, no static IP required.
QuickSwap drives can transport music to locations without Internet access.
Advanced Network Features
Access AudioReQuest units from anywhere in the world via ARQLink secure Internet login.
Java Remote turns any PC or Mac into a powerful 2-way interface.
MyARQ Webserver lets you search and manage playlists on any web browser.
Listen to music from any PC/MAC via streaming from any AudioReQuest
ARQPocket software available for full 2-way wireless control on PocketPC.
Upgradeable Software Features
AudioReQuest software updates are available online or via CD-ROM.
For more information, please visit www.request.com/us .