Pioneer DV-79AVi DVD Player
Filed under: DVD/HD-DVD Players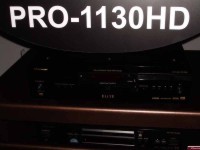 We got a good look at Pioneer's new flagship Elite universal DVD player which will ship in November at an MSRP of $1000. This unit has about everything found on the $1600 DV-59AVi and then some.
Formats
DVD Video, DVD Audio, SACD, MP3 and CD
Features
14-bit / 108 MHz Video DAC
24-bit 192 kHz x 3 Audio DAC
10-bit Digital Video Processing (VQE9) from MPEG2 Decoder to HDMI signal out for the purest and most accurate video signal possible.
PureCinema Progressive Scan for natural film-like video images.
Digital Direct Pixel Drive - Converts DVD-Video up to High Definition resolutions (1080 i or 720 P) through the HDMI output.
True Chroma Up-sampling Error Reduction - Improved color resolution.
SACD Direct - No need for the monitor to select.
Separate Audio Transformer provides a dedicated power supply resulting in better sound.
Solid Audio Circuit Block - Providing superior audio performance.
New Triple Layer Chassis - Reduces vibration.
Direct Mount Drive Mechanism - Reduces vibration.
CPRM Compatibility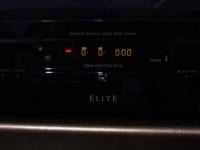 Connections
HDMI output - Single wire connection providing digital video and audio signals, including: DVD-Video, DVD-Audio, Dolby Digital, DTS Digital Surround, and more.
Dual i.LINK outputs - Single wire connection providing jitter free multi-channel high resolution audio, including: DVDAudio, SACD, Dolby Digital, DTS Digital Surround, and more.
1 Component video output
2 S-Video outputs
2 Composite video outputs
Product Dimensions
W x H x D: 16.54" x 4.61" x 13.39"
Weight: 19 lbs. 13 oz. (25.4 lbs carton)
Available in Black or Silver (DV-79AVi-S) Finish
For more information, please visit www.pioneerelectronics.com .