Optoma H78DC3 Projector
Filed under: Projectors & Screens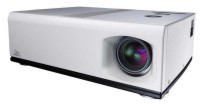 Optoma Technology, Inc. announces the availability of the H78DC3, its newest high performance digital projector for home theater. The H78DC3 features TI's DarkChip3 DLP chipset, as well as a 5X speed, 8-segment Dark Video Enhancement (DVE) color wheel and a 4000:1 contrast ratio to deliver subtle color details.
The H78DC3 home theater projector uses DarkChip3 DLP technology to assist in projecting higher brightness and deeper black levels through closer placement of the DMD mirrors than in previous chips. The H78DC3 is a native 16:9 HDTV projector (1280 x 720) that features vertical lens shift control to adjust the vertical position of the projected picture.
Specifications:
Display Technology: Single 0.79 12-degree DarkChip3™ DLP™ technology
Brightness (typical): 800 lumens
Resolution: 720p (1,280 x 720) native, UXGA (1,600 x 1,200) compressed
Contrast Ratio: 4,000:1
Noise Level (typical): 25dB standard
Lamp Life (typical): 2,000 hours
Image Size (diagonal): 21 to 282 inches
Projection Distance: 3.3 to 33 feet
Computer Compatibility: UXGA, SXGA, WXGA, XGA, SVGA, VGA compression, VESA standards, PC & compatibles, Macintosh
Video Compatibility: NTSC, PAL, SECAM, HDTV (720p, 1080i), EDTV (480p), SDTV (480i), 576i/p
Aspect Ratio: 16:9 native, 4:3 compatible
Throw Ratio: 1.6:1 to 2.16:1 (distance/width)
Horizontal Scan Rate: 15 to 100 kHz
Vertical Refresh Rate: 43 to 85Hz
I/O Connectors: DVI-I with HDCP, BNC (RBGHV/component video), component video, composite video (RCA), S-Video, two IR receivers, dual +12V trigger relays, RS-232 communication, AC power unit
The Optoma H78DC3 home theater projector is now available for $3,999 (MSRP) through authorized Optoma dealers.
For more information, please call 888-942-2929 or visit www.optomausa.com .