Marantz SR9600XM AV Receiver
Filed under: Receivers & Processors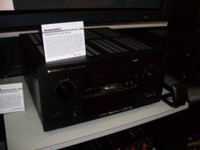 Marantz America displayed a full line of advanced 7.1-channel A/V Receiver models at CEDIA which provides dynamic surround sound solutions for every custom installation need. Most notably, the company is introducing the SR9600XM, a new version of its acclaimed flagship SR9600 that also includes XM Satellite Radio functionality.
All of Marantz's new receivers include 7 channels of discrete amplification, HD component video switching, component or s-video upconversion, 32-bit DSP processing and 192kHz/24-bit digital/audio converters for all channels. In addition, all models feature Dolby Pro Logic IIx capability, surround-sound headphone processing, front panel menu control and home theater processing (THX or HTEQ). Among the convenience features of many models that will appeal particularly to custom installers are detachable power cords and lead-free construction.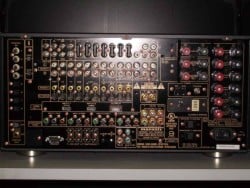 SR9600XM: Marantz Flagship, Plus XM Radio Functionality
> Introduced at CES 2005, the Marantz SR9600 their flagship product which caters to hme users and custom installers alike. It features an innovative amplifier design and strengthened chassis as well as a host of advanced technologies including HDMI switching, high-speed twin 32-Bit DSP chipsets, audiophile-grade DACs, two IEEE 1394 ports, and seven-channels of equal power amplification. Now, Marantz is introducing the SR9600XM - featuring the same attributes as the SR9600, with the addition of XM Satellite Radio functionality.

> Both the SR9600 and SR9600XM incorporate advanced digital technologies for home theater receiver performance. A massive toroidal transformer provides 140 watts x 7 of power output. In addition, the newly-developed all Discrete Current Feedback (SA-ready) amplifier is designed to ensure the receiver can deliver a minimum of 70 percent of its two-channel power rating when driving five channels simultaneously.
To ensure the highest quality video images from all sources, the receiver's video section features s-video/composite-to-component-video upconversion. The SR9600 also includes a built-in HDCD decoder. To ensure compatibility with today's advanced source components, the SR9600 features HDMI (High Definition Multimedia Interface) switching, with two HDMI inputs and one output as well as two IEEE1394 ports for further audio connectivity options.
Marantz's proprietary MRAC (Marantz Room Acoustic Calibration) feature, with an included high-quality microphone, allows users to analyze and calibrate optimum surround sound settings for any size or shape room, including parameters for speaker level, phase, size and frequency response. The SR9600 also offers audio and video multi-room operation with configurable amplifier output and multi-room on-screen display.
The SR9600 and SR9600XM both include Dolby Headphone technology to allow users to listen to music, watch movies, or play video games with the surround effects of a 5.1-channel soundtrack through any set of headphones. Dolby Headphone decodes and supports the inclusion of THX Surround EX, DTS-ES Discrete, DTS-ES Matrix and DTS Neo:6 Cinema and Music 6.1-channel formats.
The receiver is supplied with the highly acclaimed RC3200 programmable touch-screen learning remote control that operates all functions and can control all the components in a home entertainment system.
In addition to the new SR9600XM (SRP: TBD), Marantz's A/V receiver line now includes the previously introduced SR9600 (SRP:$4,199), the SR8500 (SRP: $1,599); SR7500 (SRP $1,099); SR5600 (SRP $649.99) and high-value SR4600 (SRP $429.99). All models are currently available, with the exception of the SR9600XM, which will begin shipping in November.
For more information visit www.Marantz.com .