Marantz SR4600/5600 & SR7500/8500 A/V Receivers
Filed under: Receivers & Processors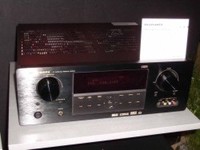 SR5600 and SR4600: High-Value, High-Performance Options

Marantz will also be showcasing two new high-value 7.1-channel surround sound receivers, Models SR5600 (SRP: $649) and SR4600 (SRP: $429), which began shipping last month.The SR5600 features multi-room, multi-source audio capability with discreet commands, as well as an RS232 port. The SR4600 is available in both black and silver.
SR8500 and SR7500: THX Select Post and DVI Switching
The popularity of Marantz' SR8500 and SR7500 receivers continues to grow, as custom installers and consumers continue to find them indispensable for a broad range of home entertainment signal distribution needs. Like the SR9600, Marantz's SR8500 AV receiver is engineered from the ground up to provide superior audio and video performance from all sources with advanced THX-Select Post Processing, advanced MRAC, DVI switching and many more cutting-edge technologies. Featuring an all-copper chassis with a double-layer bottom plate, the receiver is also distinguished by a sleek new front-panel design with a fold-down door and cursor-controlled menu system for total ease of operation. The SR8500's massive Toroidal Transformer provides an astoundingly clean 125 watts of power output for authoritative, effortless reproduction of movie soundtracks and music. Superlative sound quality is further ensured with 32-bit DSP processors and 24-bit/192kHz D/A converters for all eight channels.
With a suggested retail price of $1,099, Marantz' SR7500 is a more affordable alternative to the SR8500, providing many of the same high-end features, such as 105 Watts x 7 Channels, THX-Select Post Processing, MRAC, video upconversion, A/B loudspeaker switching, Multi-Speaker "C" output, as well as direct IR flasher inputs and a pre-coded Learning Remote Control.
All receivers are supplied with the highly acclaimed RC3200 programmable touch-screen learning remote control that operates all functions and can control all the components in a home entertainment system.