Marantz ER2500 Home Theater System
Filed under: Miscellaneous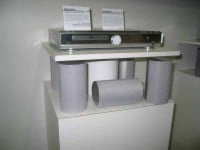 The ER2500 Home Theater System combines a unique Marantz surround sound receiver/DVD player with speakers that are at once stylish, functional, and, above all, fully capable of introducing you to Marantz-level performance. Each of the seven internal amplifiers produces 100 watts output. Thanks so efficient digital circuitry, the amplifier stages run much cooler than you might expect for longer trouble-free operation. There's a built-in AM/FM tuner as well as inputs for three external audio and two A/V sources. The progressive scan DVD player features a high speed video D/A converter/ Audio conversion is fully ready for high definition 192 kHz/24-bit sources, too. Advanced microprocessors handle a variety of surround formats as well as assure that the ER2500 handles your favorite disc types. The five satellite speakers sport a cylindrical shape (real wood enclosures, of course) while the semi arch-shaped passive subwoofer goes almost anywhere.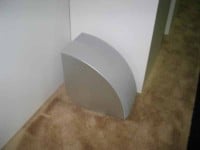 Highlights include:
6.1ch Slim DVD/Receiver Unit
100 Watt x 7 Channel
Dolby ProLogic IIx/ DTS ES
NTSC < == > PAL Conversion
For more information, visit www.marantz.com .