Marantz DV6600 Universal Player
Filed under: DVD/HD-DVD Players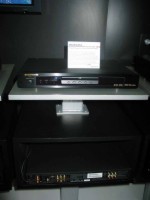 Marantz' DV6600 (SRP: $649) universal DVD player is engineered for the very best in both video and audio performance. Featuring a brand new sleekly designed chassis, the DV6600 boasts an HDMI interface, 3:2 pulldown, as well as two-channel and multi-channel DVD-Audio and SACD capability.
Progressive scan component video output with and 54MHz 10-bit video D/A converters ensure optimum video images. For superb audio performance, the DV5600 includes 192kHz 24-bit audio D/A converters. Advanced RC-5 connections provide for integrated system control, and front-panel menu operation adds to the player's convenience and operational flexibility. The DV6600 will be available in November.
For more information, visit www.marantz.com .