KEF's KIT200 5.1 Home Theatre System
Filed under: Loudspeakers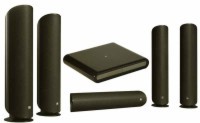 The KIT200 System consists of five satellite speakers featuring KEF's Uni-Q array, which offers distinct "vocal intelligibility," bringing reported crisp transparency to all dialogue-whether whispered or shouted-even when competing with ambient noise. Flanked by a pair of 3" long throw bass drivers with ultra-low distortion motor systems, the Uni-Q array has KEF's 0.6" aluminum dome HF driver at the acoustic centre of the 3" midrange cone to disperse a seamless sonic image evenly throughout the listening area.
The stand-alone subwoofer features a 10"long throw driver and six high power amplifier channels for the subwoofer and satellite speakers. With the supplied speaker wires, the amplification from the KIT200 subwoofer can power the satellite speakers as they are configured on-wall, on-desk or as slender floor-standing towers.
The heart of the KEF Instant Theatre KIT200 consists of a remote controllable head unit featuring an AM/FM tuner, DVD player, multiple inputs and outputs, and is constructed of die cast zinc and finished in a high gloss black finish that will complement any room décor. The unit supports DVD, DVD-RW, DVD+RW, CD, CDR/RW, and MP3 encoded CD. The tuner section supports AM-FM reception with the supplied aerials. There are three audio inputs (analogue & optical digital), one optical digital audio output, two video inputs (S-video and composite), and video outputs that support component with progressive scan, S-video and composite formats.
The new KIT200 System will be available to KEF dealers in October. MSRP is $2999.99, with optional matching floor stand MSRP at $199.00 each.
For additional information about KEF America and its award-winning products, please visit www.kefamerica.com .