James Loudspeakers - New Inwall Products
Filed under: Loudspeakers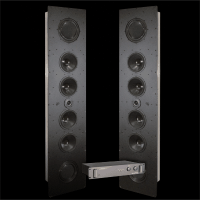 There were many loudspeaker manufactures at this year's CEDIA event. One company that really caught our attention was James Loudspeakers. They were showing their new line of In-Wall speakers and subwoofers. All of their In-wall speakers featured sealed aluminum enclosures, custom ferrite liquid cooled tweeters, adjustable frequency distribution circuit, proprietary woofers and 5 way binding posts.
The Grand Concerto is their top of the line In-Wall offered by James Loudspeakers standing 76" tall and incorporating (2) 10 inch woofer's (4) 8" mid bass mind range woofers and 1" tweeter. This huge in-wall has a claimed frequency response of 27Hz-20kHz, and looks like it can rumble the foundation of your home, if being tasked for the challenge.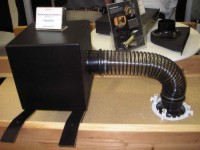 The Powerpipe 1000-PP is an active 10 inch woofer designed to fit in your attic, basement or any unused section of your home. The subwoofer includes a 500 watt rack mount amplifier and has a claimed frequency response of 30Hz-120Hz. This innovative new product will make it possible to have high performance LFE in a home where unobtrusiveness is desired.
If crowd size were an indication of how well their new product line up was received, I would say that James has a bright future. Because of their impressive display of new in-wall products, their booth was packed full with eager attendees. All James Loudspeakers have a 10-year warranty and are handcrafted in the USA .
For more information visit www.jamesloudspeakers.com