Escient Fireball SE-80 Digital Music Manager
Filed under: Miscellaneous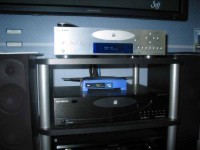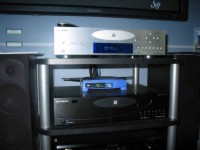 Escient introduced the Fireball SE-80 Digital Music Manager. Designed to integrate smoothly into any home network system, the SE-80 is compatible with a wide variety of audio control and distribution systems. Using IR-based control systems, users can instantly access any playlist, genre, artist, album, song title, or Internet Radio station at the touch of a button. In addition to the on-screen interface, the SE-80 can be controlled from any standard web browser, wireless PDA or web pad using standard wireless home networks.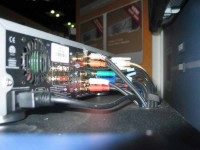 The new FireBall SE-80 incorporates the most popular features of Escient's FireBall E2 Series of Music Managers, including: highly reliable operation, automatic disc recognition, free Internet Radio, network file sharing, iPod, Rio and other portable player support, web browser control and streaming, and multi-zone support. It also offers MP3 and WMA audio support, Shoutcast Internet Radio, gapless track playback, and the ability to "skin" the interface for the ultimate customization. With 80 GB of internal storage and a built-in CD-RW drive, the SE-80 can store thousands of audio files and create custom mix CDs from users personalized Playlists. FireBall's built-in CD-RW drive lets users rip CDs directly to the internal hard drive as well as create customized audio or data CDs. For added convenience, the SE-80 lets users choose either a 4:3 or widescreen 16:9 aspect screen for the on-screen interface.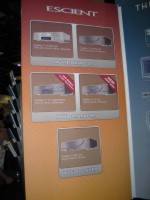 The SE-80 comes with file-sharing capabilities enabling the user to transfer digital music files to and from a PC or Mac over any standard home network. This file-sharing feature enables the user to access the SE-80's audio files allowing for applications such as backup and restore as well as sharing FireBall's music collection with today's most popular portable audio players including those from Rio, Apple, and others. It also comes with a built-in web server interface enabling the user to browse, edit, and control the SE-80 from a PC or Mac web browser or even a wireless PDA.
Expanding the SE-80 is easy. By adding a second SE-80 or other FireBall Music Server to the same home network, the audio files of both units are shared, allowing Peer-to-Peer music sharing between the two servers, doubling the storage capacity and adding a second independent music zone. The SE-80 also includes DLNA and UPnP compatible server features that allow the latest wave of inexpensive digital media receivers to play the music files stored on the SE-80 in other rooms in the home.
The Escient SE-80 will begin shipping later this month at a suggested retail price of $999.
For more information, visit www.escient.com .