Dynabox Dynamic Control System
Filed under: Loudspeakers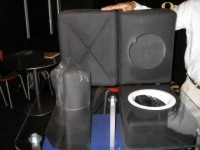 Innovation is the buzzword at this year's CEDIA and one of the most innovative products I have found in the first day of the show is the new Dynamic Control System from Dynabox.
This is basically a back box for in-ceiling and in-wall speakers to reduce noise between floors, sound migration between walls, stop back wave distortion and improve the sound quality. The really cool thing is that you basically fold the box up, place it through the cutout hole and then allow it to re-expand to create the box. This is perfect for new or retrofit construction. During my brief demo I can truly say the A/B demonstration with and without the back boxes installed was amazing. Midrange clarity was dramatically improved with the boxes installed.
For more information please visit www.dynamat.com .