Anthony Gallo A'Diva Ti and Nucleus Micro Ti
Filed under: Loudspeakers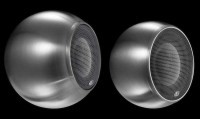 Anthony Gallo Acoustics (AGA) has announced the release of the A'Diva Ti and the Nucleus Micro Ti, the new titanium-based additions to the A'Diva and Nucleus Micro series. Based on proprietary driver development for the company's flagship Nucleus Reference 3 loudspeaker, the new Ti series speakers benefit from a full-range transducer. In addition, the loudspeakers still feature AGA's patented S2 technology, which enhances low frequencies that go beyond conventional satellite speakers.
The Ti series offers treble extension through 22kHz and achieves exceptional bass extension using S2 technology which permits 7.5 octaves of linear bandwidth from a single 3" driver. The drives use a pure titanium diaphragm that is strategically damped with paper and suspended on a Santoprene surround.
The titanium/paper coupling combines the smooth and natural sound qualities of organic fibers with the superior treble extension and improved off-axis linearity of titanium. The voice coil, which has been enlarged to 1" diameter for even more dynamic range, is supported by an oversized Neodymium magnet with video shielding for freedom of placement. An under-hung architecture makes for even lower distortion and higher output than previous models.
For more information visit www.roundsound.com .