EHX Long Beach 2004 Show Floor
Filed under: Miscellaneous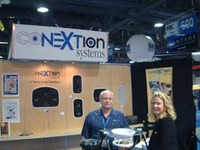 Part Two: Show Floor Coverage
After a 12-hour day judging the Distributed Audio Awards it was time to hit the exhibit floor. The first new speaker vendor that caught our eye was ConeXtion Systems with industry vet Russ Swanson explaining their brilliant no-tools-required installation solution. This patent-pending system was developed in response to the real world predicament installers face when working overhead and trying to juggle the speaker assembly and keep their balance on a ladder while fumbling (until now) for the correct tool.
Note the two-part ceiling speaker in front which takes away the possibility of slipping with a screw driver and ruining the speaker. Also of note is the ConeXtion mounting system which uses a two part latching process using ratchet-stop "dog-ears" in conjunction with a lever system that really cinches the entire assembly tightly into the ceiling cavity.
The best part about the ConecXtion product however, it that the systems where designed by Vance Dickason, the well-known speaker designer and author of The Loudspeaker Design Cookbook and the Editor-In-Chief of Voice Coil magazine, an industry publication. Vance is a no-nonsense and extremely talented designer so I look forward to evaluating more the ConeXtion products. www.conextionsystems.com
Here's our good friends from RBH showing off their wares. Daren had brought his lovely wife along to see him in action. Note the explanation of Tuned Aperiodic Venting with actual published impedance and frequency response curves which RBH proudly shows. www.rbhsound.com
JBL had perhaps its smallest booth in years. Actually, Chris Neuman of the JBL Synthesis division was inviting prospective customers down the road to JBL's $500,000+ Home Theater housed at Harman's International's headquarters in Northridge. There are now several more models of lower cost Synthesis product which the engineers I spoke with at the show are pretty excited about.
The flat screen system you see here is the CVSAT50 left and rights, the CVCEN50 center and the CVSUB50. This system is worth checking out as I was one of the trained listeners who has heard this system double-blind in Harman's Multichannel Listening Lab and I can tell you that it bested some pretty stiff, well-respected competitors.
www.jbl.com
-- >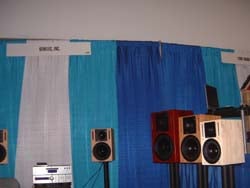 Genelec continues to support both the recording studio market as well as the high end installer market. Shown on the right are three beautiful wood veneer finishes that Genelec offers. But the Genelec person manning the booth admitted that since most of these bi-amplified systems are utilized in completely hidden high-end installations, customers will usually opt for the standard black cabinet. www.genelec.com
While Audioholics Prez Gene DellaSala awaits his review sample, Denon had their incredible 5805 being shown with both top and bottom panels removed. To the left is the unit's bottom showing the huge, dual El-core power transformers. On the top are three large heat sinks with a center mounted fan. Also pictured is Denon's National Sales Trainer, Matt Good who admitted he too was still wadding through the 192 page manual that comes with Denon's $6000 receiver.
> www.usa.denon.com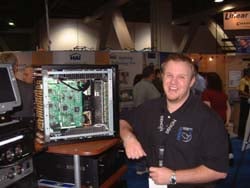 >