Philips RC9800i Remote Control
Filed under: Miscellaneous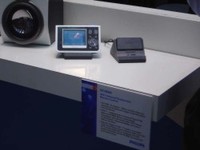 The new RC9800i touch screen remote control was also showcased for access and control of information and digital content from multiple types of devices in the home. When accessing content from a PC, on-screen listings of pictures, music and movies are displayed on the screen for easy selection and content control. The RC9800i easily can be upgraded with new features via the Internet, making it a "future-proof" device. With an extensive infrared code database and built-in Wi-Fi technology, the Philips RC9800i can recognize more than 600 brands of consumer electronics devices. The RC9800i controls legacy and networked audio and video devices, so it is capable of replacing all existing remotes in the home. The remote can also provide updates for TV guides automatically via the Internet and allows users to access digital content from home PCs.
A product within Philips' "Connected Planet" vision, the RC9800i acts as the main control center for the wireless family of products. The RC9800i uses UPnP (Universal Plug and Play) to provide content overview and control of UPnP devices in a network. The remote communicates with Philips' Digital Media Manager PC software, which is designed to organize multimedia content so users can see a list of all movies, music or photos stored on their PC on the RC9800i. Users can then play back content via any UPnP enabled device such as a Philips SL300i or SL400i Streamium Multimedia link.
For added convenience, the RC9800i features a quick and easy installation through an intelligent setup wizard, ensuring trouble-free installation. Users simply inform the device of what equipment they want to control and how the equipment is interconnected, and the RC9800i will create its own macros for turning on devices and selecting the right inputs. The RC9800i leverages an advanced control concept called "Activity-Based Control". Instead of operating components one by one, Activity-Based Control blends the most frequently used functions into activities, such as watching DVDs or listening to CDs. Subsequently, the RC9800i's touch interface matches the activity with buttons that trigger smart macros so users can watch a DVD at the touch of a button.
Utilizing a Li-polymer battery, the RC9800i features approximately one-day (24 hours) of entertainment control. The device also includes a charging cradle for simple and easy battery recharging. Available in the fourth quarter of 2004, the RC9800i will have a suggested retail price of $499.