Panasonic Press Event - Displays
Filed under: Displays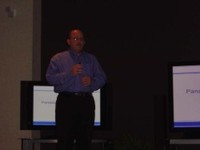 We attended the Panasonic Press Event and were pleassantly surprised by all of the products and plans they shared with us for the future. Ed Wolff, President of Panasonic Consumer Electronics shared with us some interesting details:
Panasonic has seen a definite shift (based on domestic sales) towards newer digital display technologies
By 2006, 40% of televisions will be digital display products
LCD in particular is showing tremendous growth and Panasonic believes plasma PDP Micro-device & LCD displays will be the new standard.
Panasonic is bringing their fourth plasma display production facility online to keep up with demand.
They feel 42" and 50" HD displays shoudl lead sales and there shoudl be a major display shift by 2005.
18% of plasma sales this year were for high-end custom installs - cutting edge products
Panasonic's next-generation plasma displays are the ONYX XVS Series. These units feature:
2048 shades of gray (33% more than typical standards)
8.58 billion colors
7th generation plasma display panels
separate media box with 7 meter cable
NTSC/ATSC/QAM support with CableCARD slot
Photo viewer SD/PC Card slots
1) HDMI, 2) component, 3) composite/s-vhs, 1) PC input
16Watt 3-way detachable speakers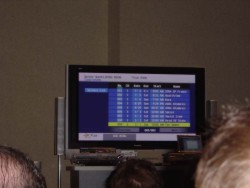 > The ONYX plasma is being used in conjunction with the DMR-E500H to stream content from one location to another.
The 65" TH-65XVS30U plasma display (1366x768) will be availbale in November with an MSRP of $19,999. The 50" TH-50XVS30U plasma display (1366x768) will be availbale in October with an MSRP of $9,499. The 42" TH-42XVS30U plasma display (1024x768) will be availbale in October with an MSRP of $7,499.