InFocus ScreenPlay 777 Projector
Filed under: Projectors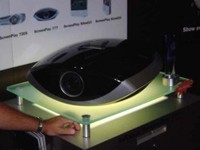 InFocus showed off their flagship InFocus ScreenPlay 777 3-chip DLP projector. The sleek projector uses three-chip DLP technology, traditionally found in professional digital cinemas. It can project 2000 lumens with a stated 3000:1 contrast ratio. The InFocus ScreenPlay 777 has a sophisticated lens, offering up to seven different focal lengths. It also features an array of connectivity options including DVI, YUV and RGB-Progressive-Inputs and is fully equipped with Faroudja video processing.
Utilizing high definition Mustang HD2 DMDs by Texas Instruments, the InFocus ScreenPlay 777 delivers a resolution of 1280 x 720 (16:9). Its use of the Faroudja DCDi deinterlacer delivers reduced noise, additional sharpness and color and top-notch video scaling. A unique 2:2 pull down menu provides virtually non-existent scan lines or flicker. Also happily noted is the fact that the InFocus ScreenPlay 777 utilizes the D65 cinematic color mastering standard to deliver ISF-recommended color temperature levels.
InFocus engineers have given the InFocus ScreenPlay 777 an ultra-sophisticated design that's really impressive looking. Its sleek contours make it almost futuristic looking without being gaudy. The ScreenPlay 777 can project a perfect 4.5 meter image from only three meters up to 25 meters from the screen - talk about flexible installation options! To further facilitate custom installation, the projector offers motorized horizontal and vertical lens shift and power zoom/power focus to embrace the widest range of placement and set-up options.
The InFocus ScreenPlay 777 (MSRP: $29,999) was accompanied by the ScreenPlay 7205 (MSRP: $8,999), ScreenPlay 5700 (MSRP: $3,999) and Screenplay 4805 DLP (MSRP: $1,499) projectors as well as the ScreenPlay 5000 (MSRP: $1,999) poly-silicon projector (the only TFT display in the current lineup.) All projectors are available for immediate delivery.
For more information, please visit www.infocushome.com .