SONOS Charging Cradle Now Available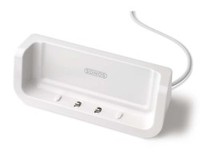 SANTA BARBARA, Calif. - October 11, 2005 - Sonos, Inc., the developer of the award-winning Sonos™ Digital Music System, today announced that the Sonos™ Charging Cradle (CC100) for the Sonos™ Controller is now available. The cradle charges and houses the Sonos Controller for quick access. The cradle retails for $49.99 and is available online at www.sonos.com or at authorized Sonos dealers.
The light gray, high quality polycarbonate-grade cradle serves two key purposes: it charges the Sonos Controller and makes the controller easy to find. The cradle is designed for desktop placement or wall mounting via a cradle bracket and works with the existing Controller power adapter. The Sonos Controller is fully functional while positioned in the charging cradle.
"The Sonos Charging Cradle provides our rapidly growing installed base of digital music lovers with a simple and appealing way to store their Sonos Controller in any room of the home and keep it fully charged," said Mieko Kusano, Director of Product Management, Sonos, Inc.
The Charging Cradle is also available at authorized European Sonos resellers for € 59.99 Euro or £ 44.99 pound (VAT included).
To learn more about Sonos, to place an order or to locate a dealer, please visit www.sonos.com .
About Sonos, Inc.
Sonos has a team of highly-talented, music-loving software developers, audio engineers, hardware engineers, industrial and interactive designers, and usability engineers. Working side-by-side, they've created the Sonos Digital Music System, the first and only multi-room digital music system with a wireless, full-color LCD screen controller. The Sonos Digital Music System is available direct from Sonos or at more than 385 retailers and custom integrators in North America, including Crutchfield, Magnolia Audio Video, Magnolia Home Theater at Best Buy, Tweeter, Ovation Audio Video, 6 th Avenue Electronics, Harvey's, MyerEmco and more. Sonos is a privately-held company, headquartered in Santa Barbara , CA with offices in Cambridge , MA and Hilversum , Netherlands . To find out more about the company or the Sonos Digital Music System, please visit: www.sonos.com .