Pinnacle Loudspeakers Unveils SUBcompact 6: The World's Smallest Powered Subwoofer!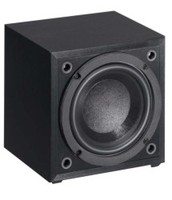 PLAINVIEW , NY - Pinnacle introduces a new solution for space saving subwoofers: the SUBcompact6. Like its brothers (the SubSonic, the Baby Boomer, the Digital Sub 600, Baby Boomer Plus and SuperSonic), this is an ultra-tiny, compact subwoofers. The SubCompact6 also has a stylish, rounded edge, cabinet design that is sure to please even the most discerning eye.
The new SUBcompact 6 powered subwoofer is housed in a diminutive ~8" cube. The SUBcompact 6 produces deep, authoritative and convincing bass down to 28 Hz (@ -3 dB). The secret to its performance is our specially developed 6.5" woofer, that is mated to a 200-Watt powerhouse amplifier, utilizing a torroidal transformer and advanced anti-clipping circuitry, engineered into a subcompact module. Also featured are speaker level inputs & outputs, line level inputs, a phase switch, auto on/off circuitry, a variable low pass crossover (50 - 150 Hz) as well as a crossover bypass switch. The front firing configuration allows for placement in built-in wall units and other custom situations. The appeal of this subwoofer clearly lies in a combination of its performance, compact size and versatility of placement. The basic design concept was to create a compact and powerful, high performance subwoofer at an attractive price. We believe we have achieved this goal with our custom designed components.
Ideal applications for this subwoofer includes hiding in-wall units, condos, apartments, average size living rooms or any setting where you want to feel the bass but not see the woofer. This SUBCompact sub is designed to be unobtrusive in any living environment. The SubCompact6's MSRP is $499.
About Pinnacle Speakers
Pinnacle Speakers ( www.pinnaclespeakers.com ) has been developing and producing superior loudspeakers since 1976, including the critically acclaimed SubSonic subwoofer and Quantum Satellite speakers. It has a solid reputation by consistently offering state-of-the-art speaker technologies at sensible prices. The company's vision and entrepreneurial spirit have built Pinnacle into one of the leading and respected speaker brands in the industry. Pinnacle proudly produces exemplary speakers as acknowledged by numerous rave reviews and countless loyal customers.
SUBcompact 6: The World's Smallest Powered Subwoofer
Features:
Anti-Clipping Circuit For High Level Undistorted Bass!
Auto On/Off circuit with LED indicator
Includes High Quality Gold Plated 6' Interconnect Cable For Easy Hook-Up
Line Level Inputs
Phase Switch
Includes Non-Skid Rubber Feet for Stability
Satellite Speaker Crossover: First Order @ 80 Hz
Speaker Level Inputs & Outputs
Stylish Rounded Ed ge Cabinet Design
Variable Crossover 50-150 Hz
Volume Control
Designed and Assembled in the USA
2 Year Transferable Warranty On Amplifier
7 Year Transferable Warranty On Parts & Labor For The Rest Of The System
System Type: Ultra Compact, Front Firing 6.5", Acoustic Suspension
Component Drivers:
(1) 6.5" heavyweight fibercone woofer with butyl surround, 2" voice coil and 30 ounce magnet
Subwoofer Low End Frequency Response: 28 Hz (- 3 dB)
Variable Subwoofer Low Pass Filter: 50-150 Hz
Satellite Speaker Crossover: First Order @ 80 Hz
System Power: 200 Watts
Dimensions: 7 7/8" Wide x 8" High x 9 3/8" Deep (with Amp & Grille)
Finish: Premium Black Vinyl
Weight: 16 lbs. each
For more information, visit Pinnacle Loudspeakers .