PI Vision Introduces Video Wall Support for UVMS™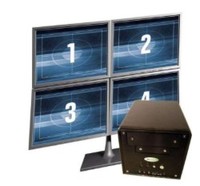 Model UVMS™ D3 Decoder and Display Driver is suitable for controlling banks of video displays. System is modular, with each D3 driving up to 4 display units. D3 exploits built-in switching capabilities of IP network to provide virtual video matrix with almost unlimited potential for expansion. System includes built-in quad feature, supports displays with up to 3,200 x 2,400 pixel resolution, and offers access to replay and live video in any window. 
PI Vision Introduces Video Wall Support for UVMS™

PI Vision has introduced video wall support for its market-leading network video recorder, the UVMS™ (Universal Video Management System).

The UVMS™ D3 Decoder and Display Driver is ideal for controlling banks of video displays - whether users employ analogue monitors, the latest control room display solutions such as the Barco stackable display system, LCDs and DVI-enabled devices, or a combination of all of these.

The system is modular, with each D3 driving up to four display units. Linked together, the D3 control system is scalable to an unlimited number of video outputs. The units are slaved to the UVMS™, and all functions can be controlled from any authorised access station on the network.

"Video walls have taken a huge step forward with the launch of the UVMS™ D3," comments David Myers, managing director of PI Vision. "D3 sits on your video IP network and gives CCTV systems all the functionality of an analogue video switching matrix, with many added advantages.".

D3 exploits the built-in switching capabilities of your IP network to give you a virtual video matrix with almost unlimited potential for expansion. While the cost of an analogue video matrix is proportional to the number of inputs times the number of outputs, in a virtual video matrix, switching capacity is unrestricted. For all practical purposes, the network routers give you an unlimited number of switches at no additional cost. Whereas an analogue matrix is difficult and expensive to grow, adding additional video display outputs to a digital system is now simply a matter of adding more D3 units to your UVMS™.

Key features of D3 include:

• Low in-built latency, making it ideal for PTZ operation (same latency as proprietary hardware decoders).

• Access to replay and live video in any window, giving you full replay functions such as frame step, reverse play, fast and slow play and smooth zoom with one-click control which adds an entirely new dimension to video walls.

• Seamless integration with the UVMS™, which gives you standard drag and drop control of the video wall via the video management access station.

• Ideal for use with high-resolution cameras such as the Axis 206M.

• Built-in quad feature requires no additional hardware, and you can even expand an image to cover four monitors with the "cameo view" function.

• Drives standard analogue monitor video walls, but is also compatible with Barco Hydra and Barco stackable display systems.

• Ability to place video walls in remote sites away from the main control room (provided you have a connection to the network), ideal for briefing rooms and backup control rooms.

• Supports high-resolution displays up to 3200x2400 pixel resolution (per monitor) as well as DVI output for an end-to-end digital solution with no loss of quality.

• Choice of displays including CRT, projector and TFT.

Geoff Thiel, technical director, comments: "By using a software solution for video decoding, the D3 avoids falling into the trap being created by the hardware decoder solution providers. In moving toward network multicasting and virtual video matrices, the IP industry is relying too much on vendor-specific hardware which will tie end-users into one manufacturer."

Geoff continues: "Comparing costs, the D3 virtual video matrix solution surges ahead of analogue matrices, especially for larger systems where the number of inputs times the number of outputs - and the associated cost and complexity - begins to grow exponentially. From the moment you start specifying an IP-based system, you are not tied into a pre-defined number of cameras and display units. Systems are scalable from small to large with the same modules because the network switches are doing the work. It also gives you the ability to add video walls in other locations, without the limitations inherent in analogue matrix technology."

David Myers adds: "The UVMS™ D3 provides you with hardware flexibility for seamless display of analogue and IP network cameras in a pure digital or mixed digital/analogue CCTV control environment. It's hardware agnostic so you aren't tied to any one manufacturer for your cameras, display units or video encoders. And it's fully compatible with your legacy CCTV equipment, facilitating the step-by-step upgrade of systems, which are moving from analogue to digital solutions."

About PI Vision

With experience in digital recording dating back to 1987, PI Vision is a pioneer in digital video recording and IP video solutions. The company understands digital video as well as the operational issues that surround the use of CCTV. All of our products are designed with the end-user in mind, combining ease of use with powerful functions.

The Universal Video Management System (UVMS™) is PI Vision's third-generation DVR, a true network video recorder (NVR), supporting both analogue and IP video inputs. The D3 is just the latest addition to the UVMS™ product family, facilitating the industry's upgrade from analogue to digital systems.

For more information about UVMS™, visit www.pi-vision.com