Olive Releases OPUS No4 and MELODY No2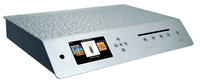 Olive OPUS No4
Olive Media today introduced a complete home audio solution that provides music lovers with the easiest to use, most convenient way to enjoy high-quality sound in every room of their home. The centerpiece of Olive's latest product innovation is the new line of OPUS No4 digital music servers, storing up to 3,000 CDs in original CD quality, and delivering them in breathtaking sound. Music stored on the OPUS No4 can now be accessed and played anywhere in the home with Olive's new MELODY No2, wirelessly and in up to ten different rooms simultaneously. Both the OPUS and the MELODY come with a high-resolution color touch-screen and an innovative new interface to allow users to quickly and conveniently find the right music.
"Until today, the experience with your fine, unique music collection has been merely fractional." says Oliver Bergmann, Ph.D., CEO and President of Olive Media Products, Inc. "Instantaneous access to all your music, everywhere within your home and in pristine quality has been an either or choice. With the new OPUS and MELODY product line the combination of all of these benefits, which opens up revolutionary new ways to enjoy your music, has finally become reality."
To allow users to navigate even the largest music libraries with ease both the OPUS No4 and the MELODY No2 feature a new high-resolution color touch-screen, driven by Olive's MusicAware user interface. MusicAware leverages 4 patent-pending innovations to provide unprecedented depth and ease to music listening. One of the key innovations is a genre-dependent playback screen, allowing the OPUS and MELODY to display music information that is particular to each music genre, e.g. showing orchestra, composer and composition date for classical music. Music genres are also color-coded for fast and easy recognition.
Following the principle of "store once, enjoy everywhere", the OPUS No4 accommodates even the largest libraries with up to 3,000 CDs in original quality. To allow seamless music streaming to Olive's MELODY the new OPUS uses a high-speed processor and high-range WiFi and Gigabit Ethernet, delivering music to up to ten different rooms simultaneously.
The MELODY No2 also plays music off other home audio sources such as media servers or computers that support the common UPnP standard. Users can enjoy private or shared playlists depending on their preferences, e.g. "wake-up- gently" and "lullaby-lane" in the baby room, or "classical chill" in the living room.
Set up of Olive's new audio solutions is a snap. Like a standard CD Player they are both connected directly to an amplifier or receiver via their analog or digital outputs. No software installation is required. If connected to the internet users can enjoy a wide range of pre-selected high-quality internet radio stations, which, similar to digital or satellite radio, provide more detailed music information such as artist, album and song. However, they are freed from any subscription fee. To address the popular market of portable players Olive has equipped its OPUS and MELODY with a USB interface. In combination with a special connector (optional) they allow users to play back music directly form their Apple iPod. If connected to the OPUS No4, users can access their Apple iPod from any MELDOY within their home, adding de facto multi-room capability to their portable player.
Based on Olive's long-standing experience in engineering high-quality audio solutions the new OPUS and MELODY have been designed to support HD audio playback in 96kHz/24bit, corresponding to 250 times the resolution of CD music. Other sound-critical components such as a high-resolution Digital-to-Analog converter, a low-noise power supply, and, in the OPUS No4, a family of ultra-quite hard drives cushioned in 8 layers of padding further enhance their astounding sound reproduction capabilities. Besides its engineering excellence Olive has received wide press recognition and numerous awards for providing customers with a convenient one-stop solution to moving their CD collections to a high quality music library. As one of a kind Olive offers a free Preload service that frees users of the time consuming process of manually ripping their CDs. Olive continues to lead the music industry in digital home audio products that deliver amazing quality sound at affordable prices.
PRICING AND AVAILABILITY
The new OPUS No4 is available for pre-order immediately for a suggested retail price ranging between $1,499 and $1,799 depending on hard-drive sizes delivering 320GB up to 1TB of storage. The new MELODY No2 is also available for pre-order immediately for a suggested retail price of $599. Olive's products are made available worldwide through a network of Olive Certified Resellers, within the Unites States they are sold exclusively through Olive (www.olive.us).
ABOUT OLIVE MEDIA PRODUCTS
Headquartered in San Francisco, California, Olive is a privately held company driven by a team of music aficionados with a vision to create the perfect audio experience and making it simple and affordable for everyone. With a deep understanding of audio and convergence technology Olive ignited the market for high-quality home audio solutions, which it continues to lead. Olive's OPUS and MELODY networked libraries and players deliver the best of both worlds, combining high fidelity sound with innovative features, intuitive navigation and attractive design. For more information about Olive and its many fine products visit www.olive.us or call 1.877.BY.OLIVE.
MUDSHARK posts on April 05, 2008 20:49
I read much the same. The Cambridge unit cost $1400 when it came out but had better DAC and reliability. Not to beat my drum but a used Yamaha with a harddrive upgrade and an outboard DAC (unless a digital connection is possible) is more cost-effective for the serious music listener. Mine set me back $800 a couple of years back and I could not be more satisfied.
stratman posts on April 05, 2008 20:13
davidtwotrees;397235
I think this Olive sounds like a kick *** product. Price wise, I paid almost a grand for my entry level Escient SE80 that holds 500 discs at a highest bit rate of 320.
The new Olive holds up to 3000 cds in cd quality......and it will support HD audio at 96khz/24bit?! That's huge, imho. To get that quality of music on a server would be awsome. And the $1800 price tag for the terabyte server doesn't sound at all over priced to me..........yeah yeah, here's where all the geeks jump in and say they can run this with that on their pc for a lot less...
well, I can't. And my server is the best investment I have ever made audiowise. I did a lot of reading on Olive, and I didn't get a sense of a reliability problem from posters around the net....my research all pointed to Audio ReQuest being the best name in servers, but they were out of my price range.........interesting to note was Mac's server was built on an Escient platform........
My Escient has done everything they said it would. I love it...
If I was going to ever go the server way, I'd go with Escient before Olive, I remember now, there were comments on Olive's reliability on this site about a year ago, I was reasearching servers and Escient always came up on top, while I distinctly remember some people having issues with Olive.
MUDSHARK posts on April 05, 2008 19:54
Not all of us want a computer in our music system. My den has no closets, all the bookshelfs are utilized and I like the on screen display on the 30 inch Tv. One remote control handles the on screen menus with little interruption while I'm working at my desk. Different strokes.
t246 posts on April 05, 2008 02:10
I just wondering what is the target population of this device ?
Rich (but not very rich) audiophile with NO knowledge of computers at all, but willing to go digital ?

How many of them exists ?

A cheap used desktop or an old laptop which run Linux or HP and can be put in closet, D-link DNS-323 NAS ,couple of 500G hard drives and Slim devices Squeeze Box - 1 for each room provides much better and much more flrxible solution for less then half a price !

And it has full control of how you rip it, support every format - Flac, Ogg , Apple lossless etc,etc, provides full control of tagging, it's possible to keep everything in FlAC and convert on demand to MP3 to download on mobile player, you can see text on the screen even if you few feet away and much much more. (I use my 10 years old Dell Laptop and I don't hear it despite the fact it's on my table 1 feet from me)

I find this screen useless since you need to sit really close to the unit to see the art and text (I don't think it has a video output to hook it to TV).

It may be a fine unit in terms of sound quality but if you are really reach you go to one of those combined audio/video servers which are installed by professionals and if not - the solution I described above.

Again, nothing against the product or the company, just can't figure business rationale behind it (Obviously, I am wrong since they exists for some time. don't know if they are making any profits though
MUDSHARK posts on April 04, 2008 21:11
I wonder if the static electricity shutdown problems of earlier units has been solved? Also, I would hope the Dac has been improved substantially for those connecting to an analog pre-amp rather than a HT type receiver/ Pre-Pro. Otherwise provision for a stand alone DAC will be necessary.