New Right-Angle Connectors from Impact Acoustics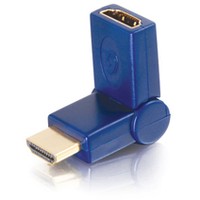 Velocity HDMI Port Saver Adapter
Dayton, Ohio, Friday February 8, 2008 – Building on the success of the patent-pending VGA270™ monitor cables and the HDMI 360° Rotating Adapters, Cables To Go (with its Impact Acoustics audio/video line) has just released new "port savers". With right-angle or rotating connectors, these cables, adapters and connectors will protect those irreplaceable ports on your devices. By using these items, you can extend the life of your HDTV, home theater components, DTE and DCE devices, and more.

(1) Right Angle Compression BNC-Type and RCA-Type Connectors For Miniature Coax: From the Impact Acoustics line of Cables To Go audio/video products! Quickly make custom length video cables for home theater or broadcast video. These right angle connectors allow for cleaner installations of flat panel monitors. They are a breeze to install and more reliable than traditional hex crimp connectors. Simply prepare a 3 or 5 conductor miniature coax cable with a stripping tool, insert the center pin, and compress it with a 3-in-1 compression tool. Very easy. See it now!

(2) Velocity™ HDMI™ Port Saver Adapter: Also from the Impact Acoustics line of Cables To Go audio/video products! In many new flat panel television installations the weight of the HDMI cable causes stress on the HDMI connector. Over time this stress and the constant plugging and unplugging of cables can cause the HDMI connectors on your HDTV and devices to wear down or become damaged. Avoid this situation and protect your HDTV investment with our Velocity™ HDMI Port Saver Adapter. The adapter is able to alleviate stress from the HDMI connector by adapting the HDMI cable to virtually any angle. It can also absorb the abuse of repeated plugging and unplugging, protecting the HDTV's HDMI connectors. It is a quick and easy way to extend the life your valuable equipment. See it now!

(3) Serial270™ DB9 All-Lines and Null Modem Cables and Extension Cables: Bring ultimate flexibility to RS-232 applications with the patented Serial270™ DB9 Extension Cables by Cables To Go. The 270° DB9 connector on each end rotates from side to side in almost a complete circle, allowing easy positioning of the cable to fit the installation. See it now!
Attention Audioholics: Take advantage of your Audioholics-only 20% discount!

Just enter promotion code AHJUNE during checkout to save.
About Impact Acoustics and Cables To Go
Cables To Go is a division of Lastar, Inc, a leader in computer connectivity solutions since 1984. Cables To Go uses the finest components and the latest construction technologies to maximize cable performance and ensure compliance with industry specifications for each cable and its designated application. Impact Acoustics by Cables To Go is our line of audio/video interconnects that serves the consumer and commercial communications electronics industry. For more information regarding Impact Acoustics, www.impactacoustics.com.