Impact Acoustics Releases New HDCP-Compatible 1080p 5-Port HDMI Selector Switch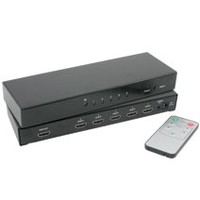 Impact Acoustics 1080p 5-Port HDMI Selector Switch
Dayton, Ohio, June 28, 2007 – Impact Acoustics™, a leading manufacturer of high performance audio/video connectivity solutions, proudly introduces its new 5-Port HDMI Selector Switch. This device provides additional HDMI inputs to an audio/video system, enabling a user to plug in up to five HDMI source devices simultaneously with fast and easy switching between them.
Impact Acoustics' 5-Port HDMI Selector Switch provides a convenient solution to problems that arise when a user has more HDMI source devices than HDMI inputs. Many output displays have a limited number of HDMI input ports to connect to, preventing a user from plugging in multiple source devices at one time. This selector switch solves this problem by providing additional high definition digital input ports for devices such as DVD, Blu-Ray and HD-DVD players, gaming systems, and high-definition set top boxes offered by cable and satellite providers. The selector switch then plugs into the open HDMI port on the high definition output display, providing quick access to each source display with just a touch of a button.
The benefits the selector switch provides makes it an ideal solution for custom home theaters, businesses, bars, restaurants, educational facilities, and anywhere else multiple HDMI source devices need to be plugged into one output device. It supports 480i, 480p, 720p, 1080i and 1080p video resolutions as well as the DDWG standard for HDMI-compatible monitors, and it is fully HDCP compliant for use with high definition movies and broadcasts.
The device features front panel LEDs, allowing easy identification of which HDMI source is currently selected. An included infrared remote control allows easy switching between source devices from a distance. The remote features discrete commands for easy integration into existing home theater systems. A built-in Infrared Extender jack also enables the selector switch to be operated by the user's home automation system or other equipped devices such as infrared extenders.
5-Port HDMI Selector Switches are backed by a 1-year warranty against defects caused by materials and workmanship. They are available, as are all Impact Acoustics products, through multiple distributors, resellers, and online at www.impactacoustics.com
About Impact Acoustics:
Impact Acoustics is a division of Dayton, Ohio-based Lastar, Inc., a leader in the computer connectivity industry since 1984. In 2002 Lastar created Impact Acoustics in order to deliver its expertise in computer and data connectivity products to the consumer and commercial communications electronics industry. For information regarding Impact Acoustics visit www.impactacoustics.com or contact us, toll free, at 1-877-AV.EXPERT.