Denon & Boston Acoustics Line Show: Overview - page 3
There are a lot of notes and we'll be sure to provide more detailed information (some of it has already been posted) but to get a quick overview of the new products that Denon is featuring - here are some of the highlights:
Flagship AVR-5805MkII ($7,000)
5 HDMI inputs
scales analog input signals up to 1080p
full Ethernet functionality
improved web browser
this model now shipping
AVR-4806CI ($4,000)
on-board scaler
CI secret installer modes
now shipping
AVR-2307CI ($799)
XM-HD 5.1 processing
HDMI 1.1; 2 in, 1 out
analog to HDMI upconversion (but not scaling)
ships in August
AVR-1907 ($549)
XM-HD 5.1
auto setup w/microphone
3 component in, 1 out
component upconversion
ASD-1R iPod Dock ($129)
available in black or white
not proprietary to Denon products
DVD-3930CI ($1,499)
Realta HQV - same chip used in the DVD-5910CI
universal formats player
PC compatible scaling
Burr Brown audio DAC's
DVD-2930CI ($849)
Recon VX chip - first DVD player to use this chipset
10 bit video processing and scaling
1080p output via HDMI
lowest price DVD player with Denon Link
DVD-1930CI ($369)
scaling to 1080p
HDMI
universal formats player
DVD-1730 ($169)
HDMI version 1.1 compatible
1080i scaling via HDMI
Also introduced were two new compact systems, the S-81 and the DHT-487DV . The S-81 ($599) is a 2-channel personal audio system that is XM and iPod ready, and boasts 50 watts per channel. The DHT-487DV ($699) is a 5.1 home-theater-in-a-box product that includes a Denon A/V receiver & DVD player with speakers and a 100 watt powered subwoofer.
During a short question & answer period, HDMI was a hot topic. After Talmadge was asked when Denon would be putting version 1.3 in their products, he explained that version 1.2a is the current and latest version available. It allows for transmission of SACD, but requires the added expense of DSD in the equipment. The DVD forum has not finalized version 1.3, and even when it does, it will still need to be tested by manufacturers and then officially released. Dolby must also update their chipset. He expects all of this to happen no sooner than mid-2007. He was unsure at this point if current HDMI equipped Denon products would be able to be upgraded to 1.3, and will not know the answer to that until the spec is finalized.
He was also asked about Blu-Ray. Denon wants to release the right products at the right time, and they do not want to release a product too early. He stated that they will be market-driven in their decision-making process. In other words, they aren't buying into the hype just yet either.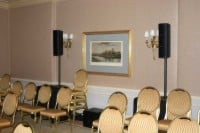 We were then escorted to a small meeting room for a demo of the E Series speakers from Boston Acoustics. The room was set up with 3 E-100s flanking a large screen. The mains had gorgeous cherry veneer side panels. They were bi-amped from an AVR-5805MkII. There were also four E70s for side and rear surrounds. There were a total of 5 XB powered subwoofers spread around the room. The quidditch scene from Harry Potter sounded amazingly clear, with objects appearing to fly not just from left to right, but overhead. We also listened to selections from Dire Straits in 5.1 audio and Stevie Wonder in 2-channel Pure Direct mode. The speakers sounded fantastic.
The E100s are also beautiful - tall, thin, dark and handsome. The bass was tight and controlled, and never felt boomy. I look forward to getting a chance to listen to these in a more critical and controlled environment.
After the demo, we went into another meeting room where the full line of Boston Acoustics and Denon products were displayed. Boston was displaying every imaginable type of speaker. On display were in-wall, in-ceiling, outdoor, bookshelf, floor standing, built-in, on wall, and the new E Series. They also had some clock-radio, table radio, and CD radio units. One of the more interesting speakers they had on display was a subwoofer (Sub 10F) that is designed to be built-in under the floor, with the port positioned similar to a typical heat/air vent that you would see in many homes.
Denon had on display all of its current and freshly announced A/V receivers, stereo receivers, DVD/CD players, as well as their home-theater-in-a-box systems. It utilized their well-recognized fancy layout that we've seen with their tradeshow floor displays at the industry trade shows.
Overall it was a great day in Cleveland (you don't hear that very often) that ended with the evening party at the Rock & Roll Hall of Fame Museum. Denon had rented out the entire museum for a private party, complete with a lavish spread of food & drinks, as well as tours. If you are ever near Cleveland, you need to carve out at least half a day to visit the museum. It is nirvana for any music lover. I could have easily spent a full day immersed in the exhibits.