B&O On Location: Production
Listening Room 2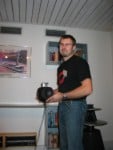 Listening Room 2 was newly renovated and hadn't really been used yet as was explained by Peter John Chapman, another acoustical engineer with Bang & Olufsen. Peter actually took us through a quick listening test. Unbeknownst to us, a pair of BeoLab 5s and BeoLab 3s were behind the curtain. In a room that size (13 x 21 x 8 feet), it was really hard to distinguish a great deal between the two (even though the 3s are so much smaller) other than the differences in bass output.
It seemed that the left BeoLab 5 was toed out a hair too much as the soundstage seemed a bit unbalanced. In that small of a room (and I was sitting way in the front) the larger speakers were perhaps a tad too much.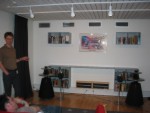 After the curtain was pushed aside, we got a chance to see the BeoLab 5's "room correction" known as Adaptive Bass Control. Essentially, each speaker sports a little mic tucked under the bottom of the speaker. When engaged, the mic extends, the speaker runs through a couple of test tones, the mic extends a little farther, more test tones, and then it is over. In order to demonstrate this, Peter moved the left BeoLab 5 into the corner (we weren't the first group, so this explains the misplacement of this speaker during our listening test). He then demoed some music switching between the left and right speaker. It was easy to hear the amount of bass bloat that was created by boundary reinforcement. After running the Adaptive Bass Control sequence, the left speaker sounded remarkably better. Note that the Adaptive Bass Control only works at 500Hz and lower.
While this is not a true room correction system, it is a fairly interesting dependent boundary and room mode system. In non-optimal placements, the Adaptive Bass Control will help the BeoLab 5 sound the way the designers meant for it to sound. When asked about true room correction (something that corrects for a particular seat or listening area), all I got was, "We are working on it."
Production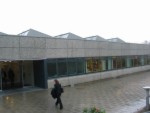 The tour of the Production facility necessitated a short bus trip to a separate building and checking our cameras and cell phones at the door. There are a couple of units in production that we would inevitably see (and we did) that we can't discuss (yet). As Jens Rahbek took us through the production floor, the most immediately noticeable aspect was the relative quiet and lack of people. Sure, there were people at work but there seemed to be more empty stations than working ones. We were assured that this is not only normal, but that the facility was in a "high production" mode in preparation for the holidays.
When taking a look at the product line offered by B&O, a common theme rings though. Aluminum. Lots of it. It doesn't take a brain surgeon to figure out that it would be cost effective for Bang & Olufsen to manufacture their own aluminum. While we weren't shown this process, we were told that not only did B&O produce their own aluminum, but they provided metal for other companies including BMW. The anodized aluminum on hand was absolutely gorgeous. Because they control the entire process, if a designer wants all the aluminum to be brushed in a certain direction (like they did on the BeoVision 7), they can do that (at I'm sure a fraction of the cost it would take to special order that out of house).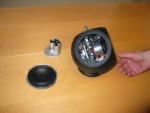 As we viewed the "naked" speakers, we couldn't help but ask some technical questions. Reportedly, they get their drivers from Tymphany (manufacturer of ScanSpeak, Peerless, and Vifa), Philips (for some tweeters), and Foster (for their high volume drivers). The internals of some of the speakers are so tight they literally had to trim back the internal circuit boards to allow for passive radiator movement (as in the BeoLab 3s). It now became painfully obvious as to why their drivers need to perform within very tight specifications. With all the amps and internal electronics, if the driver's performance is off too much, it could really affect the sound.
As we were watching them assemble a BeoLab 5, we observed the speaker entering a large heavily dampened chamber with a number of mics placed at different locations. Even though we couldn't hear it (except for some of the lowest bass), it was obvious that some serious testing was going on. Gert explained, "We do not make BeoLab 5s, we clone them." The original BeoLab 5's performance (they call it the "Golden Sample") has been measured and recorded and each BeoLab 5 that comes off the line is measured and its performance is compared to the reference. The internal electronics is modified to mirror the Golden Sample's performance within a certain tolerance. There are also other tests that are conducted including a "Rub and Buzz" test to ensure that there are no mechanical noises. If a wire is rubbing or if the cabinet isn't airtight, this would cause the unit to fail. They have techs on hand to fix any problems that may arise. Regardless, the final performance of each and every BeoLab 5 is recorded so that if any of them need repairs, they know exactly how the speaker is supposed to sound. Literally, they can scan the barcode on the speaker and download the sonic signature for each speaker as it left the factory. They go so far as to make sure that each of the components of the speaker is at the proper temperature when assembled to reduce measurement error.
With a background in Organizational Behavior, I couldn't help but ask a few questions about how Bang & Olufsen is organized and run. My curiosity was piqued when Jens pointed out that each production employee was allowed to set up their station however they want. In every American production facility that I've ever been or worked in, you are shown your station, what to do, and that is that. Changes are generally not tolerated much less encouraged. In the B&O factory, each and every station is on a hydraulic lift so that the individual worker can find the right height for them. Teams seem to be a central feature on all levels and managers are seen more as consultants rather than taskmasters. At the beginning of every day, each worker is told the number of units that they are required to produce. If they get that done early, they leave. Evaluation of performance is not based on number of units produced but on quality of work. As long as they produce quickly and accurately, they can not only excel, but leave early every day (theoretically)! When yearly evaluations are done (which was being undertaken during our visit), the manager is required to solicit the opinions of coworkers when performing the evaluation. I didn't get into detail about this but it sounds basically like a 360 degree evaluation that gets much lip service here in the states.
In the break room, there was a display of some of the current products (so that the employees can see what exactly they are producing). There is also a HUGE wall of pictures. The pictures are of people that have worked for 25 years or more. By my unscientific count, there were around 1000 of them! If someone works for B & O for 50 years, they get an updated plaque. That is really a thing of the past, though, as the law now mandates retirement at 65. You'd literally have to start working for B&O at 15 (which is possible with reduced hours). You can work for yourself at 65 or older (as a consultant or something) but you can't work for anyone else. Weird.