B&O On Location: Research and Measurement
Day 2
This is what I personally was waiting for. I had many preconceived notions of Bang & Olufsen (not all of them very flattering) and I wanted to get at the heart of the matter. At the end of day one, we were taken to dinner with a number of the acoustics employees and I had the good fortune (though I didn't realize it at the time) to sit near Geoff Martin. Geoff, I later found out, has the interesting title - Tonmeister (I'm not sure how Ton Loc feels about this). Apparently, at B&O, he is one of THE acoustic guys. He recently moved over from designing the sound system in the Audi A8 to the Acoustics Department where he is involved with developing DSPs and running listening tests. The latter is where I found myself at the beginning of Day 2
Perceptional Research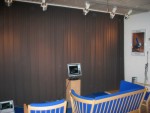 Listening tests are a strange and wonderful thing. No matter what you do, no matter the precautions you take, SOMEONE will find a flaw (real or imagined) in your methodology. I was impressed first of all that B&O did listening tests. How many manufacturers have the owner and designer sit in a room and listen to their speaker until it sounds "right" to their ear? Probably more than you think. Bang & Olufsen employs some interesting techniques to get the most out of their listening sessions.
In order to enter either of the two listening rooms, you pass through a control room. B&O employees stated that they had to be very careful what boxes and equipment were visible in this room so as to not taint the perceptions of the listeners. The listening rooms are fairly small (measuring 16.5 x 20 x 8 feet for Room 1 and 13 x 21 x 8 feet for Room 2). They can sort of comfortably fit 8-10 people. There is an acoustically transparent but optically opaque curtain on a track hanging from the ceiling. The speakers (or groups of speakers) would be hidden behind the curtain. The room is furnished similarly to a traditional living space including bookshelves, area rugs, pictures on the walls, and regular couch and chairs. Listening Room 1 was actually a room within a room (a "floating" room) which helps isolate it from outside noises.
Without getting into all the science behind this type of testing (for more information, read here ), what Bang & Olufsen does is bring in a group of people (called a Listening Panel) and "train" them through common experiences and agreed definitions. The Listening Panel gets together to agree on a number of words and adjectives to use when describing the sound of a speaker. Through an iterative and extensive process, pairs of "attribute" words are agreed upon with opposite meanings (for example: Bright vs. Laid Back, Open vs. Subdued, etc.). These words are used in a graphic rating scale by putting them at either end of a line:
Once a number of these pairs of anchor words are agreed upon, the scale is used to judge the sound of speakers. Using a computer, each member of the Listening Panel is allowed to flip between the two sets of speakers at will and then asked to rate the sound of a speaker by using either a touch screen or a mouse (these listening tests are done individually). The computer measures the distance (in millimeters) and enters the score into the database for statistical analysis. If, after a factor analysis, it is discovered that some of the participants seem to be using the same word to describe different attributes, the Listening Panel is reconvened to further clarify and perhaps add a new attribute pair or two. Note that the words are not located at the end of a line. It is possible, using this scale, to go past the location of the word if the experience warrants.
You may be thinking, "Well, where's the 'Do you like it' question in this methodology?" I know I was thinking it. The idea of this type of research is to have participants objectively quantify their subjective (or perceptional) experience of a speaker. Whether or not a person likes a "bright" speaker, nearly everyone can identify a speaker as being bright (or in this case, brighter than the comparison speaker). Not only can a trained listener identify the differences between a bright and laid back speaker, but they can do it consistently. While I wasn't able to get an exact answer out of the B&O staff, it seems that this data is used to ensure that each successive line of speakers has the signature Bang & Olufsen sound. They can also use this type of research to maintain a consistent sound when they change suppliers or make minor design changes within a speaker line.
Measurement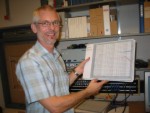 We were welcomed to the Development Department Measurement Room by Gert Kudahl Munch and Knud-Erik Laurdsen. Gert did most of the talking and was both informative and pleasant. I was particularly impressed with the sign on the door to the measurement lab. It read "A Measurement is Worth a Thousand Words." A true Audioholic mantra if I've ever heard one. The measurement lab - the "Cube" - is a ~40 foot box with two walls completely lined with what looked to be fiberglass. In the center of the room was a speaker sitting on a wooden shelf suspended from a ceiling on a large mechanical boom. The boom can raise and lower the speaker, rotate the speaker left and right, and bring the entire apparatus back to the balcony. With the addition of another device (which was not in place during the tour) the unit can be used to measure a speaker at any rotation or elevation (typically they do 140 different measurements for their total power response calculations though that can vary as they see fit).
A microphone was suspended 10 feet in front of the speaker. B&O uses a MLS measurement to test the speaker's response to an impulse. This measurement is used to find the on-axis frequency response as well as the power response. There was a lot of talk about the importance of the power response (the power response of a loudspeaker signifies the sound pressure averaged over all directions of radiation rather than just one - basically the combination of the on and off axis response in 3 dimensions ) over the frequency response. They believe that having a smooth power response is more important than a smooth frequency response for a speaker. There was also an infinite baffle set up to test the specs of the drivers. This was mostly for the woofers rather than the tweeters. It was explained that since the B&O speakers have such a small internal volume, having each of their drivers perform within a certain specification is very important.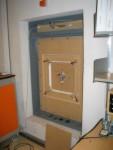 Since each of Bang & Olufsen's speakers are powered and contain some sort of internal DSP or EQ, each speaker is adjusted while in the testing facility. From the computer terminal, measurements can be taken, the boom can be moved, EQs can be set and changed, and DSPs can be adjusted. Once the speaker is performing the way the engineer and/or designer thinks it ought, it is sent over to the listening rooms for tests. If the data from the listening tests indicate that additional tweaking is needed, the speaker is sent back to the lab for another round of measurements and adjustments. While Gert might be doing this alone, more likely an acoustical engineer would be sitting next to him and collaborating.