Axiom Audio Loudspeakers Factory Tour - page 3
Production and Quality Control from Start to Finish

A measure of any good manufacturing company is how consistently they can produce a product with exacting specifications that match or exceed the original design prototype with a high degree of reliability. You would be surprised at the lack of quality control many of the allegedly high end loudspeaker companies suffer when manufacturing their products. One may mistakenly think that direct to sales loudspeaker companies like Axiom would fall under this category. However, after personally witnessing what the folks at Axiom do, I can assure potential skeptics that Axiom is not such a company. In fact, they have some of the industry's highest quality control (perhaps another benefit of being affiliated with the NRC).
The following tests are completed on all products and occur during the production phase:
Driver tests +/-.5dB frequency response tests conducted in mini sound chamber using LMS for all woofers, midranges and tweeters.
Final Product (mini anechoic chamber), +/-.75dB for amplitude vs frequency response compared to reference speakers designed at NRC. Most companies run AQL (Acceptance Quality Level) tests, Axiom doesn't since they run since they test 100% all of the time.
DCR check, phase check for drivers, system as a whole.
Air Leak Test: test at resonance of cabinet, at high SPL to ensure no air gaps confirmed audibly, max volume before meltdown.
Buzz test done at high frequency (checking for nonlinearities of drivers) for product as whole.
Endurance test done to every model once per month on each product (not shipped to customer) Max SPL tests for 100 hours. It has been rumored that Black Sabbath's Ironman could be heard from across the US-Canadian border while these tests are running.
According to Ian, their return rate for manufacturing defects is essentially nil!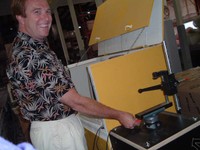 Ian conducting a driver test using a small acoustically inert sound chamber and LMS measuring system.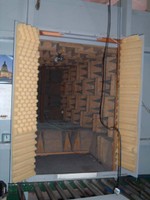 Axiom's mini Anechoic chamber for measuring final product.
| | |
| --- | --- |
| | |
| Axiom cabinets start off as a single sheet of MDF and are precisely machined with all the driver cutouts and linear and cross grooves to miterfold it into a self contained cabinet. All of the cabinets and crossovers are built in-house and the crossover circuit boards are done in Toronto . | Some M22ti's waiting to be stuffed with insulation and drivers. |

Pictured to the right is where the endurance tests are conducted, note the bass traps around the room to keep sound from escaping and disturbing the local animals and Canadian citizens. Although it has been reported by some that Ozzy's Iron man can still be heard across the USA/Canadian border when the M80ti's are being tested.

This is one of the Axiom sound rooms which consists of a curtain that goes in front of the speakers for DBT testing along with various switch boxes and sound panels to change sources and speakers instantaneously. Axiom is working on setting up a mini recording studio with a mixing consol and JAM room furnished with instruments so they can give "Live vs Recorded" demos and determine just how convincingly their speakers are at fooling people into thinking it's the real thing.