Axiom Audio Loudspeakers Factory Tour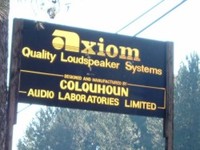 Axiom loudspeakers design philosophies adhere to their rigid scientific measurement standards and psychoacoustical testing protocols of the National Research Council (NRC). Axiom's founder, Ian Colquhoun, was a member of the founding group of researchers and has been involved with the NRC since 1980. The program was guided by Dr. Floyd Toole, a Canadian physicist and psycho-acoustician who received his PhD in England in stereo localization, and continued his experiments at the NRC beginning in 1965. Over the course of more than 20 years, the validity of these measurements have been confirmed by Double-Blind listening Tests (DBT's) conducted in a nearby NRC listening room that approximates the size and furnishings of a typical living room. With the goals of establishing scientifically controlled research and eliminating inconsistencies in speaker design and measurement techniques, Dr. Toole invited several young Canadian speaker designers, including Axiom's Ian Colquhoun , to work with him in evolving new speaker measurements and listening tests (part of the NRC's mandate was to assist Canadian firms in product development).
According to the NRC Research, the goal of an accurate loudspeaker is that it be able to measure with a flat on axis response and with an even but constantly declining (or tilting) polar response. The polar response curve is the summed and weighted average of many curves taken from either a 180 degree or 360 degree palate of curves which are usually either at 10 degree or 15 degree increments through the entire measurement range.
Ian is a firm believer in the family of curves (established by the NRC) to predict and identify loudspeaker performance, which relates to:
On axis frequency response - direct sound, first sound to arrive at the ears for listener seated at sweet spot
Listening Window - average direct sound for listeners seated or standing within a +-15 degrees vertical, and +-15 deg horizontal region directly in-front of loudspeakers
Early Reflections - first axial reflections from room boundaries
Sound Power - Measure of total sound output of loudspeaker independent of direction otherwise known as polar response
Ian informed us that all Axiom speakers are designed first to perform well to these metrics and tweaked only when the sonic results test positively in double blind listening tests.
When I asked Ian about Axiom Audio's "Company Mission" his reply to me was:
"To push the envelope of technology and research by producing the most accurate and high performance products with a high degree of value and usability for the consumer. Axiom is a research company first and uses its research to develop state of the art products."
Spending time with Ian and the folks at Axiom, I quickly realized they meant business as evident by their impressive development, testing and manufacturing facility as well as their current family of products and newest subwoofers additions - the EP500 ($1,150) and the EP600 ($1,750).
Biographies for Senior Axiom Audio Staff
Ian Colquhoun , President & Chief Engineer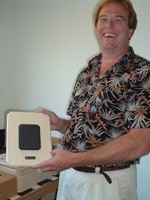 Ian founded Axiom in 1980, and is the driving force behind Axiom's innovations. For 9 years during the 1980s, Ian was one of the principals that studied psychoacoustics at the National Research Council in Ottawa , and is one of the world's experts in loudspeaker sound. He was invited by Dr. Floyd J. Toole to work with him in evolving new speaker measurements and listening tests that changed the way the world measured sound, and he has applied the findings of that research in every product he makes.
Among his many awards, Ian counts winning a C.E.S. Innovation Award for pioneering Aluminum Cone Drivers in 1988 and a Sound & Vision Award for designing one of the first fully timbre matched 5.1 home theater systems in 1985. Ian's corporate vision is an "R & D first" philosophy, capitalizing on building a team of world class engineers that bring years of expertise in the industry to Axiom products.