Audioholics On Location: Factory Tour #4 of Axiom Audio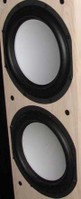 Axiom Woofs
As head honcho of Audioholics, I am privy to some perks that come with the job including handpicking the products I really want to review, delegating the ones I don't, or choosing what companies I'd like to visit for a brief vacation… er… I mean tour of their facilities. Visiting Axiom Audio up in Dwight Ontario has become a yearly summer routine for me, one that I hope will continue on as a long lasting tradition. When the arrangements were made for my visit, I couldn't help but wonder what cool things I would be shown and how cold the water at the Colquhoun dock house would be this year. I brought some extra layers this time around as I prepared to brave the cooler weather as a thin blooded Floridian who is used to swimming in the "bath water" temperature of the Gulf of Mexico.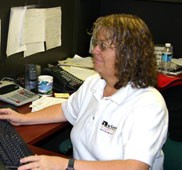 This being my 4th visit to Axiom, the factory tour was becoming old hat to me. In fact as you walk into the Axiom building, Noreen is still there handling customer support. This picture of her, stolen from their website, is exactly what I see every year as I walk towards the lab.
So what could Axiom possibly show me that I haven't seen? Heck at this point, I could probably get a job at Axiom as their official tour guide. Considering they work only 4 days / week during summer, this is a job I am strongly considering applying for. The hours are good and you certainly can't beat the scenery or weather (sans the cold lake water which I am sure I can numb to with enough liquor).

The Electronics Lab
The propeller head hangout, I mean the Axiom design lab, is loaded with enough sophisticated test gear to analyze the spectral decay of a gnat fart. They've got some serious gear here including the Audio Precision SYS 2722 Audio Analyzer – the most advanced audio analyzer in the industry (we also have one in our own test labs - score one for Audioholics). There is an array of power meters (they say "metres" but whatever), tone generators, magnetic analyzers, and o-scopes. It's like a candy store for electrical engineering geek types in there. I was having momentary flashbacks from my telecom days working for a leading communications company. Luckily those experiences were short lived and long behind me now.
5.4 kwatt load strapped to EP500 (left)    Real World  Speaker Loads (right)
Now if this isn't a cool way to reconfigure an EP500 (left pic), I don't know what is. You will notice the resistor bank loaded on each sidewall of the cabinet. This creates a test load capable of sinking up to 2000 watts into an 8, 4 or even 2 ohm load, a necessary evil for properly testing the very powerful A1400-8 multi channel power amplifier. They don't just stop at a powerful resistive load. Axiom wired it up Back to the Future style to include reactive loading using a multitude of woofers starting with the 12" driver in the EP500 all the way to their adjacent subwoofer room loaded with more loudspeaker drivers (right pic). Reactive loading testing is imperative for amplifier stability testing and determining how well it will perform with real world test loads, particularly their A1400-8 amplifier.
CSA Testing in Lab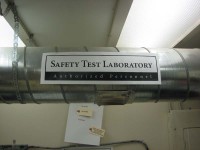 The Axiom lab is like a fully armed and operational battle station. It has enough sophisticated test gear to run a third world country and with their new additions, they can likely power one as well.
The lab has been expanded to include a STL Safety test area that is ISO17025 certified to do IEC60065 (Global) safety testing. This is engineer jargon which basically ensures that Axiom products passing these tests will not cause any harm when installed in households throughout the global marketplace. With an amp as powerful as the A1400-8, it's nice to know that at any given time, it won't transform into an evil Decepticon or shoot Sith Lord sparks down the power lines from the attached receptacle.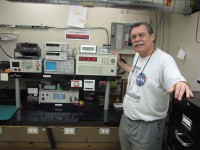 A really slick and cool new addition to their arsenal of test gear includes a Global AC Power Source (see Tom Cumberland to the right) which can generate any AC line conditions on the planet. It is certified test equipment that has its standards traceable to the NIST. I'm guessing this device also doubles as a taser (extra crispy style) to keep out nosey audio reporters trying to catch a scoop on the next secret project under development so I kept my distance.
Temperature & Humidity Testing
Shown below is one of Axiom's newest toys. It's an Environmental Chamber which is used for certification testing to ensure a product can withstand temperature and humidity extremes for anywhere Axiom ships. If their customers decide to take them to Antarctica… well… they are on their own. Here we have Axiom's very own President Ian Colquhoun posing in front of the chamber (left) and me closing the door on him (right) in hopes of filling his shoes and donning the Axiom badge at least for the moment. Behind the chamber doors, the temperature can go from –20 degrees Celsius to +100 degrees C (that's –4 degrees Fahrenheit to 212 degrees F, respectively), perfect for those rainy cold days in Canada. I bet this is how Canadians get a suntan in the winter months.
See also:
westcott posts on September 26, 2008 16:11
fredk;461412
Yes, Axiom (and a number of other Canadian companies) do follow the principles established by Floyd Tool et al during his time at the NRC.
I was trying to give Gene a segue into why he needs to stay another week in Canada to tour the facilities of the council. I find the research fascinating and worthy of an article or two unto itself.
fredk posts on September 25, 2008 18:09
westcott;460800
Canadian Research Council\National Research CouncilQUOTE]
The NRC does basic research and as such does not commercialize 'technologies'.

Yes, Axiom (and a number of other Canadian companies) do follow the principles established by Floyd Tool et al during his time at the NRC.
rmk posts on September 25, 2008 13:44
You are one lucky guy Gene. The report on your annual pilgrimage to Dwight and the Axiom compound is something I look forward to reading.

I have always liked the Axiom folks and their products. Thanks again for the enjoyable read and I look forward to Audioholics tests of the EP-800 and A1400-8.
westcott posts on September 24, 2008 10:28
gene;460773
I am not sure since I don't know what "CRC technologies" is?
Canadian Research Council\National Research Council
Sorry for the acroynm.
gene posts on September 24, 2008 08:36
refresh my memory. Does Axiom include CRC technologies in their products?
I am not sure since I don't know what "CRC technologies" is?