Audioholics Axiom On Location #2: Listening Tests
Moving camp from Axiom's production facility to the Colquhoun home, it was time for a listening session.
Our last trip here introduced us to the EP500 and 600 subwoofers compliments of Bobby McFerrin's duet album with Yo Yo Ma. The bass extension was most prevalent in this song and the Axiom super subs had no qualms producing it with accuracy and conviction. This time around, Ian loaded the room with two EP600's and two prototype digital amps with the rest of his speaker system and electronics remaining the same. With Alan Lofft and Tom Cumberland resting on the sidelines, I handed Ian a CD from one of my all time favorite rock bands, Marillion. The disc was " Holiday 's in Ed en ", which I feel is a great primer for potential new Marillion fans looking to get a taste of their fabulous sound.
For those who aren't familiar, I suggest checking out our extensive Marillion Band Interview and their music if you enjoy rock with substance, meaning and passion.
Artist: Marillion
CD Title: Holidays in Eden
Track List:

Splintering Heart
Cover My Eyes (Pain and Heaven)
The Party
No One Can
Holidays in Eden
Dry Land
Waiting to Happen
This Town
The Rakes Progress
100 Nights
We started out with Splintering Heart, which opens innocently enough showing no signs of a dynamic rock song. Steve Hogarth's voice is simply astounding and the emotions he invokes in his lyrics simply legendary. The bass guitar was well pronounced and sound envelopment in DTS Neo6 was excellent.
Though this CD is a bit anemic in bass response, the EP600 twins did provide some oomph in the program material, especially at low volume levels. This is something I am sure Ian and his loudspeaker design group must be proud of. Design a speaker system to be linear and it is usually less fussy about the room you place it in while at the same time retains the ability to extract the most detail out of any recording at all listening levels, regardless of volume level position. The Axiom system was clearly demonstrating this.
We ran through the gamut of tracks in this CD. Pretty much all of them are excellent, but my personal favorite is Waiting to Happen, which I feel to be the ultimate rock song you can actually dance to. The Axiom folks like their music loud and clear and Ian certainly didn't use the volume control sparingly on this song. Ordinarily I like to listen at a more sane level, but Steve H's voice is simply mesmerizing and you just can't play their music loud enough in my opinion.
Next up were some bass torture tests starting with the Flintstones theme song from a bass demo disc Ian had on hand. With the twin EP600's handling the low frequencies, we discovered bass we never knew existed in this song, especially when being played on the typical 6x9 whizzer cone speakers found on the TV sets we all grew up with when watching this classic cartoon. It was hypnotic watching the EP600 woofers get quite a workout, and particularly impressive that the long woofer excursions were absent of audible distortion or bottoming out.
Though I felt a bit out of my element listening to a bass CD typically found in a teenager's boom car, it was an enjoyable experience hearing and feeling the EP600's belt out the low notes. My personal preference would have leaned towards some Steely Dan or Pat Metheny, but neither artist's music would likely satisfy the appetites of the various bass lunatics present or provide a true demo to marvel in the capabilities of these subwoofers.
Listening Impressions by Mark Sanfilipo
The subs delivered - with ease - very impressive amounts of very clean, low frequency acoustic power. We worked our way through various test tracks chosen for the audition; you could hear the various LF room modes loading and unloading as the system was put through its paces. Nothing unusual there. What was unusual was the experience of encountering the sort of wall-shaking dB SPL levels the subs were producing - and doing so as cleanly as they did - in such a reasonably sized package. Push these subs hard and the kid in you will laugh with amazement at the results.
Though there were moments during the audition I found myself wondering just how much acoustic energy the immediate structure could absorb before showing signs of stress and strain, I never got the sense we were ever near the limits of these sub's capabilities. The idyllic peace and quiet of the Canadian countryside just outside the glass wall of the lakeside home we auditioned the system in seemed an odd counterpoint to the acoustic mayhem going on, to the delight of all those present, inside.
Like any good sub, they delivered when called upon, then disappeared back again into the mix. These subs are not one-note thumpers for the faint of heart. The digital road map encoded in the subs' built-in power amp ensures - indeed, demands, the system reproduce with precision and musicality whatever source material you feed to it.
Add a sub or two like the EP500 or its big brother, the EP600, to your home system and you'll discover a new dimension to the music that makes up your collection. From sheer musicality to sheer impact, you're in for an exciting, refreshing listening experience.
Editorial Note by Mark Sanfilipo
With all the digital technology packed into the EP500 & 600, it would seem reasonable to conclude that they are likely both servo-controlled systems. In fact, they are not, instead relying on a DSP- implemented amplitude response "road map" and some very tight driver quality control to attain the exceptional performance envelope engineered into each system. The DSP roadmap contains all the information the amplifier requires to ensure the system performs optimally at all frequencies and voltages levels. Unlike a servo-controlled system, it requires no feedback to tell it what to do at any particular instant in time.

Closing Comments
On my last visit to Axiom Audio, I walked away with a new respect for the company. My sentiments this time were much the same, except I was completely excited about the direction this company was heading in. They are attempting to position themselves to quickly become Canada 's leading loudspeaker and electronics manufacturer. The fact that they have the resources and engineering know-how to do it isn't as impressive as is the desire in their hearts and thirst for developing the very best products. It was clear to me that the Axiom Audio community loves what they do, perhaps equally as much as we love reviewing their exciting new products. These guys love going to work!
When I asked Ian's wife, Amie, why Ian always has a smile on his face and is quick to crack a joke, she said that (besides obviously having such a great wife) he has a clear conscience because he is following his heart, designing gimmick-free products and technologies he believes in, all firmly grounded on provable sciences and established engineering principles.
Axiom Audio has all of the necessary ingredients of an excellent company that many corporations could learn from, and although they are passionate about their work, they are equally as passionate at enjoying life's simple pleasures (ie. food, spirits, nature and most importantly the comradeship of each other). You get a sense of family when spending time with these people and their genuine kindness and thoughtfulness reaches out to their customers, in their support and service of their products. It's short-sighted to speculate that Axiom will be complacent limiting their design and manufacturing expertise to loudspeakers and amplifiers. We are expecting a great many things from this company in the near future and look forward to reporting on it. Though they haven't yet attained the magnitude of name recognition possessed by the likes of Sony, Mercedes, or Audioholics (LOL), keep an eye on Axiom: this is one sizzling company that will likely be known as a trend setter in a few short years.
Impressions of Trip and Country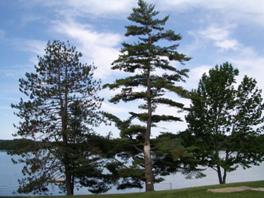 This was our second visit to the beautiful Canadian countryside of M uskoka, and the lovely sights of nature never became tiresome or too familiar. Each time I gazed at the enormous and beautiful trees and unadulterated eco system it reminded me of just how artificial the more industrialized cities in the USA have become. It was hard for me to accept the fact that people actually owned a big chunk of land with a single home occupying what would normally be a cluster of homes back in the more developed areas of my hometown in Florida .
Ian and crew certainly picked a great location to run their business. Its isolation and seclusion is certainly an ideal environment for maintaining a clear and focused state of mind, although the temptation of basking in the warm sun of a beautiful summer day or jumping into a clear, brisk lake is certainly hard to resist. It was easy to see why the senior engineering staff of Axiom Audio generates most of their new product ideas on the dock, though I wondered just how much product development occurs during the remaining 8 months of the year when its unbearably cold (by my standards). Perhaps this is when they enter the production phase?
Additional Pictures and Sights
Here are a few shots of the cabin on the lake we stayed at during our visit to Axiom, which incidentally is where we later discovered the Colquhouns first met.
On the dock at the Colquhoun home, my wife and official photographer (left) is shown hard at work while we discuss the wonders of exotic cables, mystical CD mats, and the magical metaphysics surrounding them.
A beautiful Canadian sunset at 9:30pm at night!