Audioholics APC AV On Location: Tech Talk
Hanging with the Engineering staff of APC AV reminded me of my Telecom days at Paradyne when I worked for the Technology Group of their elite R & D staff. I usually felt like the dumb guy at our meetings since I was surrounded by an awesome think tank, but it helped me grow intellectually and, as a result, I am a better engineer and debunker of myths for it. Speaking with one of the founders of APC, Manny Landsman, was most enlightening especially since he frowned upon much of the misconceptions surrounding audio, particularly about exotic cables. I happily pointed him to our articles on such topics and let him know we are slowly winning the battle against misinformation.
We discussed many aspects of power including the misconceptions many consumers have about typical amplifier power tests. Mike Schenck was kind enough to help out in one of our most recent articles on this very topic.
See: The All Channels Driven (ACD) Amplifier Test
As a footnote to the ACD article, Patrick informed me that the National Electric Code does not allow loading a circuit by more than 80% Thus on a 15A line, that means no more than 12 amps should be drawn. This translates to 1440VA or Watts . In reality, that means available power to drive your Amp ACD style is actually less than what we discussed in the article. Food for thought next time that ignorant forum member claims his amp can deliver 400wpc x 7 ACD.
We also discussed the all too familiar problems some manufacturers have who utilize VARIACs to do line regulation in their power conditioners. VARIACs are too slow to respond properly to line fluctuations due to the mechanical time constant of the VARIAC system. In other words, by the time the motor has started to respond, the voltage fluctuation has come and gone. The motor is much too slow to address fast moving electrical transients that cause most of the damage in connected equipment. An electrical transient can be anything from a voltage surge to a momentary cycle drop to a long term 'brownout'. These transients vary both in duration and 'attack' speed. An entire surge event occurs within micro-seconds whereas the onset to an under/over voltage event will occur within mlli-seconds but last several hours. In simpler terms, power conditioning equipment must be designed to handle real world conditions, not just display pretty numbers.
The lag between a power system fluctuation and the motorized VARIAC system response, (such as increasing or decreasing voltage) can result in a dangerous over voltage condition to the connected equipment. (See the graphic below) Couple this scenario with a power amplifier whose capacitor bank has a very slim design margin against an overvoltage condition, and you've created a recipe for disaster. This is why some amplifier manufacturers advise against connecting a power conditioner to their products. A poorly designed power conditioner coupled with a marginally designed power supply in an amplifier can create a failure condition during major line voltage fluctuation conditions. It's best to avoid this scenario by using a properly designed power conditioner. Of course we advise a UL certified one as well.
Commercially Available 'AV' Voltage Regulator utilizing a motorized VARIAC
A commercially available motorized VARIAC based voltage regulator was exposed to an IEEE 1159 styled test. The blue line is the input voltage - the utility voltage underwent a rapid under voltage event not unlike what happens when a tree partially shorts one of the phases to ground. The 'onset' is very rapid - much less than one cycle and it takes a few moments for the short to clear. The utility voltage then rapidly returns - usually within a cycle or two.
The red line is the output of the 'Voltage Regulator' - it took a full second to respond to the voltage event. By the time the 'Voltage Regulator' responded, the damage had already been done - the DVR shut down, the amplifiers shut off, the DLP bulb was thermally shocked, etc. However, the real damage occurs when the utility returns to normal - the motorized VARIAC continues to 'correct' the voltage supplying a peak of over 248V to your sensitive & expensive equipment. The 'Voltage Regulator' was a little faster reducing the voltage, but it still supplied dangerous voltage levels for nearly ¾ of a second. An amplifier's capacitors and power supply would have been toast.
APC has a most impressive testing facility tailored to AV. They torture test their products by power, voltage and frequency cycling them 1000's of times per day over multiple days to ensure their products wont fault because of the large inrush currents caused by heavy loads such as power amplifiers and plasma displays. One life test forces an S-15 to cold boot (power on using only batteries) 1000's of times into a massive simulated amplifier. They had to build an 'amplifier' because no commercially available amplifier unit was capable of being cycled on and off thousands of times in a short period. They had some very interesting stories about amplifier failures! They assured me the amps were not being used in a manner consistent with their design (turning on and off thousands of times within a few weeks).
Another test simulates a large AV system in a horrendous power environment. A massive subwoofer, multiple amplifiers, plasma, and DVR/media PCs are all simulated in an interesting test that squeezes 25 years of electrical performance in a matter of months. The voltage, frequency, sags, swells, small surges, EMI etc are all slammed into the S-Type's brick wall power conditioning and UPS functionality. After a unit 'fails' these abuse tests, it is dissected, and the root cause is determined. If there is a design issue, it is logged and the will make it into the next product revision. An impressive array of electrical test equipment and resources are available to thoroughly design and test all of APC AV's products.
Left Pic: APC Racks with Rotel Gear          Right Pic: APC Power Products Under Test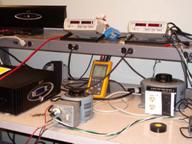 I was particularly interested in some of the testing Mike was doing with VARIACs and how in reality these are NOT the best devices to use when attempting to hold the line voltage constant during power amplifier tests. VARIACS are commonly used to validate the steady state or long term voltage correction capability of a voltage regulator. VARIACS are too slow to simulate voltage transients, but they are great for looking at the 'long term' performance of voltage regulators. In other words, it is not possible to accurately capture the response time of a voltage regulator but it is great for finding out it well it corrects long duration voltage issues.
Using a VARIAC to test an amplifier is not a good idea (though sadly many other review publications use them religiously) .
The output from the VARIAC is NOT indicative of the real world AC voltage waveform. It distorts the AC waveform so much as to effectively add miles of wire between the utility and the amplifier. Take a look at the excerpt from the ACD article I previously authored below.
A great example of a weak transformer - or one that has poor regulation - is a smaller VARIAC similar to those used to evaluate amplifiers. In this example, the VARIAC was setup to boost the output voltage from 108V to 120V. In an unloaded state, the VARIAC was boosting the voltage by 12V RMS. The VARIAC began to lose regulation as the load was increased to 50% of its rated load. This particular test was only run at 50%; imagine how much worse it will be at 100%!
V no load RMS: 120V
V 1/2 load RMS: 112V
½ Load Percent Regulation: 7%
The clipped waveform also changes the behavior of the power supply. The peak voltage available for the bridge rectifier has been reduced from 170V to 158V - a whopping 12V drop in the peak voltage output. (120*SQRT(2)=170V). Reducing the peak voltage reduces the DC bus voltage of the amplifier. The amount of capacitance, the turns ratio of the transformer, and other power supply design factors. These factors affect APC's AVR transformer design. APC strives to maximize the advantages of voltage regulation, not minimize it or cause any other down stream problems.
VARIAC is unloaded.

Ch1: Input Voltage

Ch2: Output Voltage

VARIAC is 50% loaded

Ch1: Input Voltage

Ch2: Output Voltage
APC knows about all things related to power. To the left we have the largest toroidal transformers I've ever seen. These can satisfy any power freak who dreams of an amplifier powered by a nuclear reactor that can deliver its specified power into all channels driven continuously. On the right are the leftovers from a massive power test - they were interested in testing their high power InfraStrucure equipment. After connecting these transformer and inductors to a 300kVA power feed, they promptly shorted the outputs to ground. In doing so, they overloaded the utility's transformer - instead of giving up, they rented a 1 MW (1 Million Watt) generator to continue testing.
APC AV Future Roadmap
Unfortunately I am not at liberty to discuss most of the new stuff APC is developing until the CEDIA show. I can however tell you they are working on some enhancements for the estimable S15 power conditioner and some very savvy new products that can be installed at the main breaker of your home to provide APC protection and backup to the most critical circuits in your home. Best of all, they will be incorporating intelligent power management and monitoring unlike anything I've seen in this product genre.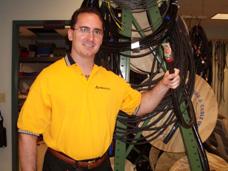 They have a slew of new portable products coming out, including a battery extender and charger for your iPOD and some nifty laptop and travel bags loaded with APC goodies to die for. APC has recently released the Universal Power Adapter, a power supply that can run most leading brands of notebook computers using power from any airplane, auto or AC outlet, as well as the Mobile Power Pack, which is an external battery that provides users extended runtime for mobile device.
I leave you with a hero shot of their version of the Audioholics GLOB speaker cable. While it doesn't have any batteries slapped on it for biasing, its gauge is low enough to not be measured on conventional gauge charts and it is heavy enough to bust any exotic porcelain cable elevator that we know of. Best of all this cable doubles as a curling bar should you not be able to make it to your local gym for a bicep workout.
Local Sights and Impressions
Our view (left pic) from our hotel window at the Marriot in Newport . A local vineyard (right) we visited after a grueling day of geeking out with the APC engineering staff.
Downtown Newport was simply amazing as it reminded me of my childhood days growing up in Port Jefferson Long Island. I love the North East, especially when it's not snowing.