Yamaha PDX-11 Portable Speaker Preview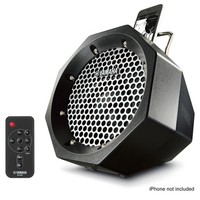 Summary
Product Name:

PDX-11

Manufacturer:

Yamaha

Review Date:

December 16, 2011 10:55

MSRP: $99.95
First Impression:

Pretty Cool

Specifications

| | |
| --- | --- |
| Supported iPhone | iPhone, iPhone 3G, iPhone 3GS and iPhone 4 |
| Supported iPods | iPod video (5th gen. iPod), iPod classic, iPod nano and iPod touch |
| Input connector | Stereo L/R 3.5mm stereo mini Jack |
| Speaker system | 4" cone woofer, 1-3/8" tweeter |
| Dimensions (W x H x D) | 8-1/4" x 9-3/8" x 9-3/8" |
| Weight | 3.3 lbs. |
| Colors | Black, Dark Blue, Green and White |
| Power Supply | AC or 6 AA alkaline batteries (not included) - battery life: approx. 8 hours |
Executive Overview
Yamaha is unveiling the PDX-11 as an ideal music companion when you're ready to take the party with you. Perfect for indoor or outdoor use, you simply plug and play, or use batteries to take the PDX-11 with you wherever you go. The unit runs on 6 AA batteries (not included) with an estimated run time of approximately 8 hours. The PDX-11 also comes with a sturdy metal handle, so carrying the PDX is easy, and with this Portable Player Dock, sharing your latest music will always be part of the fun. A 3.5mm stereo mini jack also allows you to connect to other portable or computer systems. Yamaha designed the octagon-shaped body to deliver stability, toughness and style. Choose from four strong colors - white, dark blue, green and black - each accented by a color-matched, perforated steel grille. This portable, powerful speaker system amplifies your iPod/iPhone music for your active lifestyle. With a weight of only 3.3 pounds, you can enjoy your tunes in bright clear quality anywhere and everywhere you go.
The PDX-11 houses a unique two-way speaker system and a large 4 in. woofer (well large given the enclosure size) that ensures respectable bass output and solid mid-range, plus a dedicated tweeter for the higher frequencies. You're probably wondering how you're gonna get stereo sound from a single speaker enclosure or if those old Beatles records will playback either vocals only or instruments, but not both. Fear not as this system will play back all of your favorite tunes in mono. Unfortunately the PDX-11 can't be paired for stereo sound. But, when you're cruising to your tunes outside and scoring points with the babes as a result, you likely won't give much notice to that fact.
Yamaha claims this system was created and tuned by Yamaha professional audio experts, to deliver extremely accurate bass along with crystal clear highs. Remember this statement to use as bragging rights when you show up at a beach party with your PDX and want to impress your friends.
The Yamaha PDX-11 comes with a remote control for hassle free operation. Convenience, durability and sound quality you'd expect from Yamaha, this is a must have for portable music junkies. If you bring the tunes, they will come......just make sure they do so with beer and food aplenty.
For more information, visit: Yamaha's Official PDX Product Page