Would You Pay $500 to Watch First-run Movies at Home?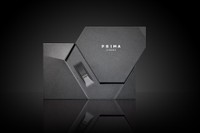 Prima Cinema Biometric reader
Would you pay $35k + $500/movie to watch first-run movies at home? Prima Cinema seems to think there is a market for that - and we'd have to agree. No, not for you and me, but there are certainly an elite group pf people who will pay the money simply for the potential to be able to do such a thing. Now, it seems, Prima's plan, which they began talking about a full two years ago, is finally coming to fruition. So what IS the plan? Well, there is the hardware component, a BMW-built chassis (their U.S. design team in California handles the manufacturing apparently) and streaming media server that runs $35,000 and streams 1080p movies and full surround audio at a quality the company declares will top Blu-ray.
The PRIMA Cinema system is comprised of a rack-mountable Prima Cinema Player and—get this—the Prima Biometric Reader. That's right, the biometric reader will make sure that it's really you who authorized that $500 movie purchase (which I guess is a good thing if you're on the hook for the money and you have kids). Films are then downloaded by PRIMA Cinema Player via broadband. There is apparently no wait time to begin watching as the movie can begin as soon as the buffer fills far enough to allow uninterrupted playback. The Player outputs audio & video over standard HDMI so you can connect it to any 1080p-capable processor and display.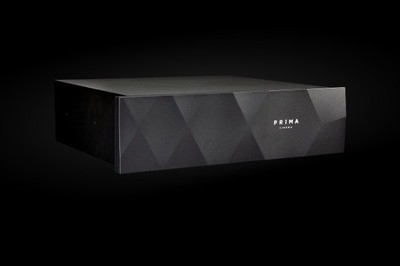 The Prima Cinema comes with built-in 3D and boasts better clarity and deeper color than current Blu-ray Players... a boast that loses it's meatiness when you factor in the fact that you're likely sending the content to a color-bandwidth limited display that's calibrated to the CIE norms. Audio is via lossless PCM or Dolby TrueHD.
For security purposes, every film is custom watermarked so that if it ends up online, you'll personally be identified as the source. We don't yet have any information on what the size limitations are for participation in watching movies via Prima, but they don't seem concerned (at present) with any apparent losses of revenues, provided the showing ius deemed private. One interesting portion of the FAQ section of the website reads:
"PRIMA Cinema is intended for private residential, non-commercial use only and must be installed by a PRIMA Cinema Authorized Dealer into an authorized professionally-installed home theater."
The takeaway from that is that they are anticipating these systems being installed in private home theaters and not Joe Blow's living room for his family of 4 (of course, I just described myself).
Product Specifications
Video:
1080p Full HD, 24 FPS Specification
Original Cinematic Master Aspect Ratio
YUV 4:2:2 color depth, 10 bit
3D-enabled
Audio:
5.1 and 7.1 surround sound, supporting Dolby TrueHD or PCM support
So what do YOU think about this type of system? Does it makes sense? Do you think it should have been released as a custom package with 4K video support? (we do) And, most importantly, would you pay as much as you did for that small BMW vehicle for the privilege of being able to pay $500 to see a first-run movie. Investment aside, you could take 40 people to the local cinema to enjoy a 3D movie for $500... but would you want to? We think Prima has the right idea and love the concept. Hopefully they will step up the technology when displays begin their migration to 4K and Blu-ray becomes the "old" technology.
Steve81 posts on December 04, 2012 09:46
darien87;929109
Like most here have stated this isn't targeted for "normal" people but if you're filthy rich why not?
Even the filthy rich tend to like value (though there are those with more money than brains). I'm not sure how much value a product like this has even to those who can afford it, but I suppose time will tell.
lsiberian posts on December 04, 2012 08:31
Seems like a step toward the future IMO. How long till we have first run movies in our homes.
jmilton7043 posts on December 04, 2012 08:21
I'll buy two. One for my theater and one for my bedroom.
ImcLoud posts on December 03, 2012 16:54
Thats a lot of money, $500 to watch a mocie never mind the $35K for the equipment is about $450 per movie and $33K more than I would spend... But now for $2K in equipment and $50 per movie, show me where to sign...
j_garcia posts on December 03, 2012 14:49
Let's see, $35K for the system + $500 per movie (not including the price of the HT) or wait 2 months and watch it for ~$20 on Blu-ray? That's a tough one....

In the Giz article one person commented that there are decidedly a fair number of people out there who have home theaters are are easily in the hundreds of thousands, so the cost of this system really isn't much comparatively. That's not an average consumer though, but I highly doubt this is targeted at the average consumer.