Audioholics Store Promotions - Limited Time Deals
by
will
—
November 29, 2010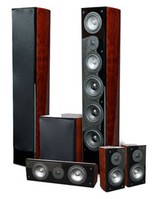 The Audioholics Store is pleased to bring you some incredible limited time promotions this Holiday season. Act fast because all of these deals are limited time only and will expire as soon as stock runs out!
EMP Impression System - Free Subwoofer Promotion
Get a free EMP ES10i subwoofer ($375 value) with any 5.1 or 7.1 Impression system purchase - TODAY ONLY!!! Expires 11:59PM on 11/29/10.
EMP Impression Systems at Audioholics Store
Home Theater Package Deals
Prices have been slashed on home theater packages featuring speakers from Klipsch and Atlantic Technology, as well as the latest receivers from Yamaha and Marantz.
Home Theater Packages at Audioholics Store
Atlantic Technology Sale - 25% off

All regularly priced Atlantic Technology speakers are 25% off with coupon code AT25 at checkout. This excludes only the IWCB-52 In-Wall speaker, which is already on sale for a remarkable 75% off!
Atlantic Technology at Audioholics Store
Panamax Sale - 40% off

All Panamax products are 40% off with coupon code MAX40 at checkout.
Tarub posts on November 29, 2010 21:42