You Want Speakers? We Got Speakers!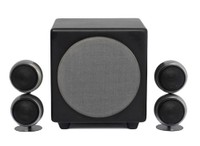 Everyone loves free speakers
Long time members of the Audioholics Forums will know that we often have contests. Gear, gift certificates, and more are given out to one (or sometimes more) lucky winner and all you have to do is be an eligible member of the forum and answer a few questions. This month, we have something a little special. Speakers. We love them, you love them, and for free, the price is definitely right. So, what do we have on tap?
For starters, Aperion Audio is giving away a Bravus 8A powered subwoofer. The sub is valued at $319 and sports an 8" woofer, 100 watt amp, and 3/4" ported cabinet. On top fo that, they are throwing in a Home Audio Link. The Home Audio Link is a wireless solution to sent music from your computer, MP3 player or other source to any AV receiver. Specifically, the Home Audio Link can be used with the Bravus 8A as a wireless subwoofer solution. This is spectacular for those that have a perfect sub location that they can't get to with a wire. Together the sub and the Home Audio Link are valued at $468!
Next we have a contest from ZVOX Audio. ZVOX has deveoped a few innovative one-speaker surround solutions for those with limited space and placement options. Let's be honest, there are plenty of times you need to make compromises in order to keep your better half happy. Do you want a full 7.1 system in every room (including the bathroom)? Yes you do. But there will come a time when your better half or your wallet will just say "Enough!" It is time like these where the ZVOX IncrediBase575 makes sense. This single speaker surround solution sports two different areas in it's box. The front is for the main speakers which provide a surround experience from a stereo analogue input. The larger back section houses two 6.5" woofer in a ported enclosure which provides bass you wouldn't think possible out of a "surround bar" solution. The entire thing is rated to hold up to 140 lbs so you can put your display right on top of it. The IncrediBase575 is valued at $699. Check out our review of the ZVOX IncrediBase575.
Last but certainly not least is Orb Audio. These round little speakers have impressed us from our very first review. The Classic Two Stereo System they are giving away in our forums sport a Mod2 configured pair of speakers. The Mod2 are essentially two of their spherical speakers on a single stand. The speakers sport a 3" driver in each sphere and are constructed out of carbon steel. They've paired these with their 8" ported subwoofer. This is the perfect desktop system or as a started kit for a future full surround system. The Classic Two Speaker System is valued at $698.
Remember, some restrictions apply so read the contest rules carefully. You have until the end of the month to enter. One winner will be chosen for each contest randomly from the pool of eligible entries. Most of all, have fun and good luck!