Salamander Modular Olivia Home Theater Seating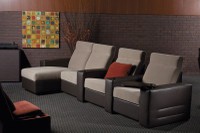 Salamander Modular Olivia Home Theater Seating
Salamander Designs has been making home theater furniture components for a while now, and their designs (in our opinion) always come across as intriguing and practical. They make everything from audio/video entertainment furniture, home theater seating and accessories such as accent lighting and wall hanging systems. Now, the company has introduced the Olivia seating collection. Olivia delivers the features you'd expect of home theater seating, like (optional) cup holders and a choice of motorized, manual or non-reclining backs - but it also gives you the comfort and look of an elegant sofa. The new Olivia is available in a range of materials and, thanks to Salamander's new Custom Details program, customers can choose from a matching or contrasting double-needle stitch.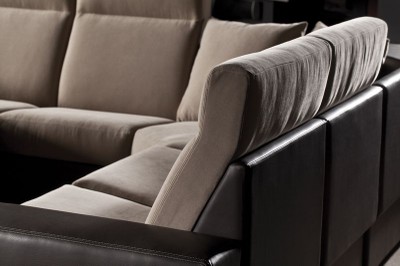 When you look at the design, the Salamander Designs Olivia seems to be a very good blend of versatility and contemporary design. The "sofa" is modular and sectional, so you can build just about any type of seating area. That gives the consumer (or custom installer or interior designer) enormous flexibility, allowing for a variety of sizes and configurations. Olivia just might be the perfect choice for the discerning user who can't decide between theater seating or a more traditional look. In this way, your media room, family room, or great room can be perfectly configured to accommodate everyone gathers to enjoy the home theater experience. Because the system can be customized and configured with an available "cozy chaise" and corner connectors, you can also create "L" shaped arrangements that enable the Olivia to function both as a luxurious pillow-clad sofa as well as a destination for a movies or the big game. Stylish two-tone covers provide even greater design flexibility for the Olivia collection.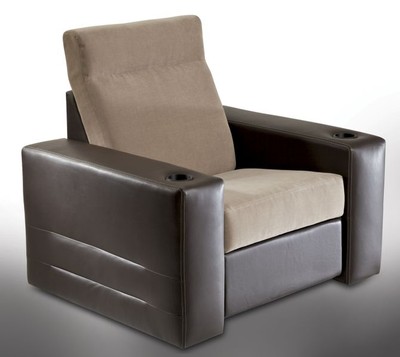 We're having to admit that this is a really attractive design - one that piques our interest in how it truly accommodates a variety of uses and applications. If possible, we may take a much closer look at the system in the near future.