HDTV Prices on the Rise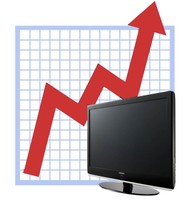 HDTV Prices on the Rise
According to the Retrevo CE Index HDTV prices are on the rise in February. This is the first rise in prices since May 2008. Prices in February were up 10% after dropping approximately a total 35% from May 2008 to January 2009. Demand for HDTVs spiked as you might expect in January due to the holidays and Superbowl. There's nothing like a big sporting event to get people out and buying TVs.
Holiday and Superbowl sales as well as the closing of Circuit City has held prices down. It makes sense that other retailers would have to keep their prices down as Circuit City liquidated their inventory. Now that all these factors have subsided, the "perfect storm" of HDTV sale prices seems to have passed. If you didn't get in while you had the chance, you may have to wait a few months or risk paying a few dollars extra. If you come across a good deal, now is definitely not the time to sit on it and see if you can find something else.
We've known for some time that display prices have some of the slimmest margins in all of AV so this doesn't come as much of a surprise. As sales decrease because of the economy, manufacturers are looking for ways to keep their bottom line as stable as possible. This means either selling lots of units with low margins are a few units with higher ones. We don't expect HDTVs (without the introduction of some new, hot technology ) to increase substantially, however. But sales may be harder to find until consumers start buying more. If that means waiting until the holidays, that's just what the manufacturers are going to do.

Currently, hot products right now based on rising demand are car accessories, including receivers, amplifiers and video players, headsets, multi-function printers, monitors, and GPS receivers. 

Warpdrv posts on March 27, 2009 16:50
So glad I took the opportunity to pull the trigger on my 65" panny....
jcilforever posts on March 27, 2009 00:06
FloridaDude007;543836
That's amazing I thought the prices would be dropping now...
They have already hit their low as the manufactures have already cut back production and were dumping what they had on the market from Nov until Feb to meet 08 sales forecast.
I am afraid the next time you would see a drop is if we hit a depression or of course when next years models come out but it is a small drop compared to the 45% we have seen.
FloridaDude007 posts on March 26, 2009 23:34
That's amazing I thought the prices would be dropping now...
Pyrrho posts on March 24, 2009 07:14
JLMEMT;535453
I actually predicted this back around Thanksgiving and talked my father into not waiting until spring to buy the TV he wanted.

My take on it, which may be wrong, is that they expect some people will "have" to buy a new TV to get what they want after the digital change over and will pay for it even if it is a bit higher than it was. Now it could be all about the economy and I was right for the wrong reasons, but I was still right.
I think you are right.
In my case, seeing deals in the newspaper gets me to
expect
low prices, and I refuse to pay more than the advertised sale prices. So, I would not buy anything with them raising the prices above those prices.
But, I am not the target audience anyway, as I bought an HDTV just over a year ago, and I am not planning on upgrading for several years. Perhaps in 2020 I will be a new one, even if my current one is still going strong. But I am unlikely to buy a new TV before then, unless my current one dies, and then I would likely not buy the same brand. A well made TV that is not abused should easily last that long.
Peteman990 posts on March 20, 2009 16:57
All I know is my Panasonic Th-50PZ77U went down by over half in just a year and a half. Great TV, should have waited a year though