Philips and Sony TV Business - Up in Smoke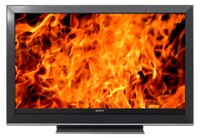 Philips and Sony TV Business - Up in Smoke
Two electronics companies. Two different approaches to dealing with failing TV divisions. Philips, the Dutch manufacturer that still makes the TVs seen in America under the name Funai, has decided to fold and step back from televisions in favor of more profitable business lines. Meanwhile, Sony has decided to double-down to try and restore its TV division to its former glory days.
In terms of the consumer market, there's never been a better time to buy a TV. A new HDTV with extras like 3D, UPNP compatibility and a litany of streaming services can be had at lower prices than ever before. And you can get bigger screen sizes for less than consumers have ever paid in the past. These days a name brand 50-inch LCD panel with a built-in HD tuner and 120Hz refresh rate can go for well under $2K. It's also not hard to find a budget model for significantly less, the bargain hunter can dig up 50-inch plus panels for well under a kilo-buck.
While these may be great days for the consumer, they're dark times for the TV industry itself. The HDTV heyday of just five years ago is long gone.
The Philips Electronics company is just the latest to show signs of TV-business pain. The Dutch electronics manufacturer, co-branded Funai for the North American market has sold a majority of its money-losing Television business to Hong Kong computer-parts company TPV. For Philips, the sale offloads a segment of its business that has not turned a profit in years. Philips Chief Executive Officer Frans van Houten said after taking 272 million-euros ($363 million) for its TV business:
"The TV industry is changing, and we came to conclusion that we need to team up with a partner, the joint venture does not mean the end of Philips TVs, but a great future."
Philips will retain a 30-percent stake in the TV business while TPV assumes the majority 70-percent in the joint venture called TV Vision.
Meanwhile over at Sony the company's TV division is still going up in flames.

It's so bad at Sony that company President Kazuro Hirai has announced he will personally see to the restoration of the once proud TV division to its legendary status and get the Sony Bravia back-in-black. Hirai says he will stake his reputation on restoring profit to the Sony TV.
These are words not to be taken lightly from the man who made Sony's PlayStation business a profitable venture and has recently taken over as CEO of the company. Hirai is bringing in a crack team of handpicked execs that seek to turn the fortunes of the Sony TV business around. They're already up against a gloomy forecast which says it will lose money for an eighth consecutive year.
NHL hockey fans can think of it this way… Sony TVs haven't been profitable since the last time the Toronto Maple Leafs made the playoffs.
"The TV business is Sony's main business and (its recovery) is an absolute condition that must be met for the firm to recover its performance," said Keita Wakabayashi, an analyst at Mito Securities. "That's why it will be placed directly under (Hirai's) control, and means he has to take care of the most important issue."
Sony and Philips' pain in the TV division underscores the cut-throat competition in TV manufacturing coming out of China. The Korean TV companies like LG and Samsung are finding profit in mobile devices while the TV industry softens. Sony doesn't have this luxury, its Walkman brand hasn't translated into successful mobile devices and its newly acquired Sony Ericsson is still a long way off from presenting true competition to other devices. It's like Sony got trumped by the iPod, only to get trumped again by the iPhone. It's still trying to recover.
But Sony has made a commitment to rebuilding its home entertainment division and simultaneously building out its mobile gadgets. The strategy is to build both around a unified, cloud-based software and content platform that travels with the user from device to device. Sony calls it – PlayMemories Online.
Will Hirai succeed in turning Sony around? We're hoping PlayMemories Online has a little more to it than just becoming a pale imitation of the digital ground that Apple has already innovated.
Editor's Note on PlayMemories: If history is an indication, it will be a lofty but limited-in-scope platform that is redundant to existing solutions, has a terrible interface, is completely proprietary, and lacks a truly ergonomic user interface. Sony wants so much to be a leader, they tend to presume it in their new product developments and then acts surprised when the masses don't conform to their expectations. The one thing they have going for them is that, even in their pursuit of selling hardware sales, they aren't - like Apple - limiting the use of this software to those with Sony hardware. According to the online video for PlayMemories, it will work with both Andriod and iOS devices.
PhilCohen posts on April 08, 2012 09:14
Obviously, the analogue to digital T.V. changeover(which forced consumers to buy new televisions) caused an enormous boom in the sales of televisions, but this couldn't last forever.

Like many consumers, I've got nothing against 3-D, but I intend to use my existing televisions for as long as they last, and have no plan for the foreseeable future to buy a 3-D television. Many consumers are doing the same thing that I'm doing, and it is because we are in the new great depression, and don't have so much money to spend.
BMXTRIX posts on April 07, 2012 08:57
I think that a quality TV at a fair price is what most people are after at this point. Philips was a crud company most of the way with their TV division. I mean, they invented the Pronto remotes, but their own TVs couldn't reliably be turned on, off, or to the proper input with them! They never had an engineering manager that had a clue how to make a controllable TV, and while their TVs were often inexpensive, they were never as cheap as their image quality was, and they never offerred enough quality to justify the price.

Sony, in contrast, has just been dealing with the Chinese/Korean invasion and a run of very high quality displays from the competition while dealing with their high overhead rates. Unfortunately, there has been little to set Sony apart from the competition. No 'Trinitron' which just was a step ahead of everyone else. Had Sony figured out the skinny TV before Samsung, and perhaps pushed for more Chinese builds at high quality the way we have seen other companies do, they would likely be leading the game.

Want to know three companies which consistently make TVs which can be controlled wonderfully with a universal remote?

Samsung
Sharp
Sony

Know who also responded to early complaints about this issue and now all their TVs are properly controllable with a universal remote?

Vizio

I'm sad to see that Sony is having issues in the display game as the primary manufacturer, but they have also failed to stay ahead of the competition. I believe they are in talks with Samsung for their panels now, which is not really a bad thing for those who like Sony displays, but it likely will do nothing but put Samsung further ahead of the competition. Once again, not a bad thing as Samsung has been a class leader for a while now.

I'm not sure where the TV game will be headed in future years. There is still certainly demand for TVs as monitors without all the 'Smart' functionality, but more and more people think they want that functionality in their TV.

But, a decent computer costs $500+ and people want that type of performance built INTO their $1,000 TVs these days. It's unrealistic and causes serious quality corners to be cut. No, really, stabbed, beaten, drawn and quartered... the quality is just garbage on most built in 'Smart' capabilities.

To make it worse, the audio connection to an external A/V receiver or switching solution can be abysmal.

The new hook is all about selling the razor blades. I've got enough expensive toys with enough need to buy razor blades without adding my TV watching to the mix.

I think it would be nice to see a quality display without ANY bells and whistles in the box. Sell it at a very good price. No added cost for speakers, Smart, or even a ton of connectivity. But, then, give those options to people if they want/need them. A standard card based system across an entire product division. Cards which could contain HDMI 1.5, or DisplayPort for those who want it. A card with Smart/PC functionality. A card with HDBaseT connectivity. Or an amplifier card with a couple of speaker/speakerbar options. Get your TV YOUR way, but start with a base model/configuration which is more cost effective for those people who want to go to component systems like so many of us here already do.

I would be VERY interested in that TV, but it would still have to be extremely high quality for video while staying thin and looking good... with a very competitive price structure.
bikdav posts on April 06, 2012 21:26
From my standpoint, the "stand-alone" TV isn't as important as it once was. A lot of over-the-air programming has gone down in quality. Many people _ like myself for example _ are doing lots of their "TV viewing" on the internet via desktop, laptop, or portable units [the iPad and their Android and Windows counterparts are picking up big time]. We can view just about anything on the internet on demand when we have time to do it.