New 8k Projector to be Demoed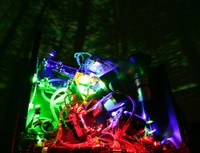 I think that is the inside... probably during one of those Pink Floyd shows.
Evans & Sutherland Computer Corporation announced today it will demonstrate its revolutionary new laser projection system at the InfoComm09 tradeshow June 17-19 in Orlando, Florida. This E&S Laser Projector (the ESLP 8K) is the world's highest resolution production video projector. We've seen a few 4k flat panels at tradeshows in the past but never an 8k. 8k is essentially 16x's the resolution of 1080p. This is obviously not for home use but for large venues. Technology like this, however, might affect what you buy in the future.

The ESLP 8K is a laser projector using "NanoPixel technology." This is the same technology used in the E&S Digistar Laster fulldome planetarium system. The projector will be available in the second half of 2009. In addition to it's 8k resolution, it can also do 4k by 4k 3D. With more and more movies coming out with a 3D version, this should give this projector a wide appeal.

NanoPixel Techonology generates 32 million pixels versus 1080p's 2 million. It is powered by a laser rather than other more traditional means. The laser's hue does not degrade or shift over time which will allow for a more consistent picture. The color spectrum of the laser is also much larger covering 200% of NTSC/HDTV. The operating costs of a laser is also lower than other projector types.

The chip that controls the image has 9,192 microscopic moving ribbons yeilding a 36-bi/pixel (12-bit/color) image. E&S promises that the image will be free of artifacts with no visible gaps between pixels. They also promise zero "persistence" or smearing in moving images. With a large screen, this will be an important factor as smearing and motion blur become very evident.
The ESLP 8K uses significantly less power than a traditional 2k/4k projector. It can actually be plugged directly into the wall! On top of that, it doesn't require replacement and disposal of lamps. The solid state laser requires very little cooling as well.
As mentioned, this is not a home based projector (I'm sure they'd sell you one if you really wanted I'm just not sure you'd have the throw distance). It is targeted for commercial use in control rooms, visualization centers, education, simulation, editing, design studios, and other demanding applications all over the world. No pricing was announced but you know the saying. If you have to ask...

About Evans & Sutherland
For over 40 years, Evans & Sutherland has been at the forefront of developing computer graphics and digital display technology, and applications that benefit from it. Since the 1980's the company has applied its technology to offer the latest in high quality digital projection systems for digital planetariums and digital cinemas worldwide. E&S now produces professional hardware and software to create highly realistic visual images for digital theater and other applications throughout the world. In addition, Spitz, the leader in display dome manufacturing and a wholly owned subsidiary of E&S, designs domed theater and astronomical systems used in academics and entertainment. Evans & Sutherland is headquartered in Salt Lake City, UT and they also have offices in Chadds Ford, Pennsylvania, and Beijing, China. For additional information please visit www.es.com or call (801) 588-1000.
See also:
AcuDefTechGuy posts on June 02, 2009 10:09
It's almost like saying a THD of 0.000000000000001% is great, but we can't tell the difference between a 0.1% THD and a 0.000000000000001% either.

I would think this 8K display will UPSCALE all sources (1080p, 4K, etc.) to 8K?

Again, the questin is, can we tell the difference?

Oh well. In 10 years, if a 4K or 8K 60" TV only costs $2K, who wouldn't want it?
HookedOnSound posts on May 26, 2009 22:17
It sounds really nice but is there any source material capable of taking advantage of those specs?

From what I understand, 1080p HD video format is pretty much the highest available commercial format available.

I hope somehow this technology makes its way into my living room...someday!
Biggiesized posts on May 24, 2009 22:04
IMAX should have waited to contract these babies out for their IMAX Digital screenings instead of using dual 2K DLP systems.