MPAA Website Provides Legal Cover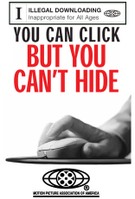 Well... maybe you can click... but just our site
While we are used to bringing you news of the most recent grandfather that the MPAA has sued, for once, it seems they have finally come to their senses. The MPAA has been concerned primarily recently with "helping" customers by suing them whenever they download a movie illegally. Apparently, someone over at the MPAA got a dictionary and looked up the word "help."
Variety reports that MPAA is working on a new, yet unnamed, website that will list all the legal ways to watch, buy, rent, or download movies. Users would have the option of purchasing tickets for local theaters, lists of websites where the content can be legally viewed,  or viewing lists of authorized retailers, renters, or download sites. All the the major studios are expected to take part in the site as an element of an overarching strategy to reduce piracy.
Supposedly this site will list all legitimate sites though given the number or retailers, the lists may be a bit long and cumbersome. It is supposedly "not-for-profit" though someone is going to make some profit from all the traffic generated by these links. We can easily imagine that link placement and prominence could be used to generate revenue in order to maintain the site (and pad someone's pockets).

Don't think that the MPAA is doing this out of the goodness of their hearts. With the number of legal arguments they must combat, having such a website should make it easier to make a case against "pirates" who claim that they didn't know that they were downloading a movie illegally. We'd love to see a comprehensive site that lists all the available legal avenues for accessing content along with price comparison for the best deals but we expect something much more bare bones.

westcott posts on July 31, 2008 11:03
Should be a VERY short list!!!
jamie2112 posts on July 29, 2008 15:04
This looks like just another way to try and save a sinking ship....The record and movie industry's are just hitting rock bottom right now and trying to sue some grandfather for his granddaughter listening to The Jonas Brothers is not settling well with most of America....sorry to rant....