Mount Your TV-Think of the Children!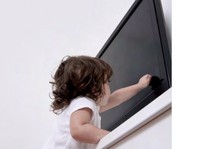 News flash: TVs can fall on you!
Sanus has an interesting PR campaign going on this week. The company is exposing a little-known safety concern with flat panel TVs: They can fall on your kids. Flat Panel TVs are cool, but when your toddler of yesteryear used the ole' 32" CRT o pull himself up into a standing position there was no danger of the thing falling on top of him... it weighed 150 pounds (and wouldn't budge). Not so with today's flat panels, which can tend to be tipsy and, on average, weigh anywhere from 30-60 pounds (or more, of course) depending on the size.
Apparently thousands of people are injured each year in "TV-related accidents" (gosh I'd be embarrassed to be a part of THAT statistic!) In 2012 the Consumer Product Safety Commission, the entity responsible for issuing and enforcing all "voluntary" recalls, said that nearly 19,000 people are injured from tipping TVs each year, and a child dies every three weeks because of unsecured TVs.
Oh the humanity!
We don't want to be callous, but let's face it, SANUS is selling their mounts here and these statistics are, well, statistically insignificant when laid up against the number of TVs sold and the other ways in which children can be injured or killed (drowning, poisoning, burns, suffocation, etc). In either case, if you're concerned, we'd have to agree that the safest (and coolest) way to use your flat panel TV is via a wall mount.
To help sell TV mounts spread the awareness about TV safety, SANUS is engaged in a multifaceted consumer outreach campaign. The company has launched the informational website www.tvsafety.org where consumers can learn about TV safety, read news articles of actual TV injury incidents nationwide, and find nearby retail locations where they can purchase safe TV mounting solutions. SANUS has also launched a nationwide consumer ad campaign and partnered with Safe Kids Worldwide who is engaging local coalitions for a grass-roots educational movement.
Their message? "Don't become a statistic."
We have news for you, SANUS. We are ALL statistics. We just hope we and our children don't end up underneath the hulking mass of a new 80-inch Sharp flat panel television. While the odds of that happening are extremely slim (hence our levity in the matter), statistically speaking, we're glad of the reminder and perhaps it will help one of our readers avoid a real tragedy.
NewHTbuyer posts on January 30, 2013 01:01
It is pretty common, but more importantly, totally preventable. Either wall mount or get safety straps.
utopianemo posts on January 29, 2013 21:25
Statistically insignificant doesn't mean insignificant. It's an important issue.
Midwesthonky posts on January 29, 2013 12:54
Huh...my kids just sit in front of the tv with drool hanging off their chins...
armando22 posts on January 29, 2013 08:02
Good info. I have a 20 month old son who is in his prime of messing with things he shouldn't. Thanks