Memorial Day Special - EMP EF30 Free Upgrade!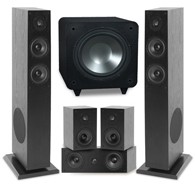 Now imagine this in rosewood...
The Audioholics Store has been running a great deal for the EMP EF30 5.1 system for just $899 (less than half MSRP). There has been such a great response, that they have sold out of the EF30C Center Channel. To make up for this (and to ensure that shipping continues without making you wait for their stock to be replenished), they are offering three upgrade options:
Full RBH Sound TK 5.1 System in rosewood finish
RBH Sound TK-5CT Tower Speakers and matching TK-515C Center Channel in black, EMP EF30 Bookshelf Speakers (identical to TK-5C except cosmetics)
Free upgrade to EMP EF50T 5.1 system
This offer could expire at any time - and certainly won't last any longer than May 31st (just until they get some more EF30C's in.) If you want in, hurry up, as this deal is going to expire QUICKLY.

surferaudio posts on August 20, 2008 18:07
vtsteevo,

I would not recommend purchasing the Pioneer just for the psuedo power rating, both AVRs you mentioned are part of the marketing that they claim 90 watt or 110 watt per channel but that's only for 1 channel fully driven, if you have 1 speaker channel, great... the extra wattage may help, marginally.

Either AVR will only feed your 5 or 7 speakers about 30-40 watts or less with either AVR... so the extra $100 is not worth it. You will clip or distort easily if you try to ramp up the volume.

To provide true real power, look at your speaker's impedence load and RMS or program wattage range then feed it with an separate amp like emotiva ultra series (125x7 is a great one) or multiple pro-audio amps like qsc or crowns or even american audio with a fan mod plus line level boost box.
vtsteevo posts on August 09, 2008 08:50
Will a 90 watt per chan. receiver like the Onkyo TX-SR606 bring these speakers to life? Or should I pay $100 more for the Pioneer 1018-AH-K with 110 watts?

These speakers are coming on Wednesday.
Aporetic posts on July 11, 2008 10:14
dustinnguyen;427719
dragon875,

So could you give us an impression/review of the speakers? I am really interested in opinions of the TK-5CT owners.

Thanks,
Dustin
I've been living with the RBH TK5 system for nearly two months now, and I'm still impressed with it almost daily. I was one of the fortunates who got the free RBH upgrade when the Audioholics Store was offering the special on the EMP EF30 system in May. As for the TK-5CT towers, I've done A/B comparisons with several speakers, including my beloved Infinity Kappa 8.1's which I've had since 1995, and some PolkAudio RM-8000t's which I was pretty happy with. Honestly, the sound quality of the TK-5CT is so much better overall that it almost seems like an unfair comparison. The clarity and detail is really amazing, from the treble right through the midrange and bass. The Kappa's have 12" woofers and not surprisingly have better lower bass extension, but the TK-5CT bass is a lot tighter and punchier. Also, I wouldn't characterize the TK-5CT as "bright", but rather as "clean", and MUCH less fatiguing than the Polks. I've been greedily digging through my music archives just to see how awesome my old favorites sound on the RBH system... It's been a real treat. It really seems like I'm listening to some of them for the first time. My only concern now is that I can't stop wondering how incredible the higher end RBH speakers must sound!
dragon875 posts on July 01, 2008 09:55
dustinnguyen;428890
Thanks Dragon,

Do you think the treble is too detailed (bright) sometime?
I certainly haven't noticed it in the towers. The bookshelf speakers sound a little bright but only slightly. Since I use the bookshelf speakers for surrounds only, it does not bother me.
dustinnguyen posts on July 01, 2008 00:41
Thanks Dragon,

Do you think the treble is too detailed (bright) sometime?