Infinity Speakers on Sale at Audioholics Store
by
will
—
November 19, 2008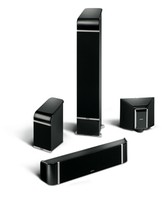 Infinity Classia Speakers
The Audioholics Store is proud to announce that it is the newest Infinity authorized online retailer. The store offers the full line of Infinity Home Audio Speakers, including exciting speaker packages and complete system discounts. The Classia and Primus series of speakers and subwoofers are on special holiday sale through the end of December. The Store is also offering unique home theater packages with even deeper discounts of over 35% off these speakers in systems with electronics from Yamaha, Marantz and Oppo.
The Infinity Primus speakers are already a fantastic value.

Infinity offers three new models of wireless subwoofers that employ 2.4GHz transmitters to allow you to enjoy deep, tight bass without running a subwoofer cable across your living room. Check out the new 10" PS210W ($429, regular price $549), 12" PS212W ($529, regular price $679) and 10" PSW310W ($899, regular price $1199) and grab one before its too late!
allargon posts on November 20, 2008 09:44
Hopefully, this means the Audioholics site will step up its (semi-?) official reviews of Infinity products.

Most of the reviews are for the older Kappa and Beta systems.

Thanks for offering them. You guys keep this up, and I can steer most of my relatives away from Best Buy towards you in the near future.