IKEA UPPLEVA TV with Integrated Electronics, Remote, 2.1 Audio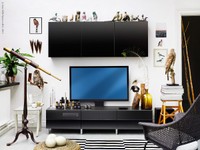 IKEA UPPLEVA TV with Integrated Electronics
If you thought that bringing home a TV and attaching the base was too difficult, then IKEA has a solution for you. Now, with the UPPLEVA, you can order an entire entertainment center with the TV built in. Now, finally, you can assemble your TV in 32 different steps with no instructions except a series of pictoral diagrams that look like they were made by exiled Singapore children using .06 rapidograph pens dipped in oil. If you didn't understand that last reference, don't worry, we're just prepping you for the confusion that will be the IKEA television-slash-furniture system.
The truth is, IKEA may figure out that the system needs to come pre-configured. Still, we can't imagine there won't be at least some of that treasured IKEA confusion we all love to... love... in that bittersweet way that IKEA makes us want to buy what they have one minute and then curse them incessantly over the next several hours. IKEA let on that their UPPLEVA flat panel television systems will be manufactured by TCL, which is the Chinese company that bought out RCA's TV division.
IKEA's new UPPLEVA system is going to include a television, Blu-ray player, stereo speakers, and even a wireless subwoofer. The all-in-one furniture solution will also come ready for Internet connectivity and online services for audio and photo sharing, include an FM radio and even have a place to dock your iPod. Apparently, it will even include a universal remote control to link it all together.
But that's not the best part. The UPPLEVA will start at just under $1,000 and will be available in an almost limitless amount of colors and configurations - similar to what you're used to with IKEA furniture systems. Even the TV will be available in at least 4 sizes (we're guessing 37", 42", 50" and 55"). That's actually an insanely good price, assuming the TV is at least 50" in size and it includes all that it purports to. It also comes with a 5 year warranty, which is not shabby, particularly if you have a local IKEA store to handle the exchange. Check out the video to find out more about the new system.
96cobra10101 posts on July 06, 2012 23:55
Not a huge fan of Ikea. Wife did the kiddos room with Ikea furniture and the bottoms of the all the drawers fell out. All that was needed was a strip of wood across the bottom and problem solved. What puzzled me was that the tv stand she had was designed well and made pretty sturdy. They do have some pretty neat stuff at there stores fo-sho.
BMXTRIX posts on July 05, 2012 12:04
We have three Ikeas within an hour of my home... It is, by far, the most difficult store to walk through without buying at least something. This will just make it that much more difficult.

It would be nice if they just sold a better piece of A/V furniture with an integrated stand. Most stores fail miserably at providing A/V furniture at a reasonable price, and Ikea has definitely been a part of that trend.

About the only way to get A/V furniture has been to spend a ton at A/V stores, or go to Racks and Stands and read a lot of reviews and hope the color is what you want it to be.
William364 posts on July 03, 2012 22:35
I'm trying to wait for my next Dane...Trying
BoredSysAdmin posts on July 03, 2012 16:54
Just noticed the typo. It's Uppleva, not upleva :-)