Hulu, Netflix Escalate Rivalry with Original Series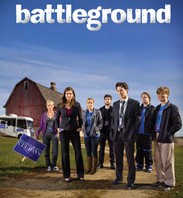 Hulu, Netflix Escalate Rivalry with Original Series
Hulu, the online bastard-child of ABC, Fox and NBC is launching a salvo at competitor Netflix with the announcement of its own original content. The company's CEO Jason Kilar says the company will pour about half a billion dollars into original TV shows in 2012. It's part of the rapidly growing company's new aggressive attitude, making a stand against the competition. Hulu now proudly boasts one and a half million subscribers and it's only a little over one year into existence. Hulu's first scripted series, a political comedy, will go online next month just in time for the Republican primary.
"We have conviction that digital ultimately becomes the primary way that consumers across the globe choose to access content." Kilar said on his blog Thursday. Hulu Plus, at $8 per-month, lets users stream previously-aired network programs and its catalog of full seasons for on-demand viewing, similar to Netflix. Hulu also has a free version of its service at Hulu.com. Both services are largely ad-supported, its pay-service annoys users with fewer ads.
Editor's note: One of the most annoying drawbacks of Hulu Plus is its almost deceptive licensing arrangements with content providers and studios. Deceptive in that it's often unclear to subscribers that some of the content they expect to be able to watch isn't available on all platforms. This results in an inordinate amount of confusion as to which content is only available online for PC devices, and the lesser amount which is made available for set-top devices like televisions, Xbox 360, PS3 and Roku devices.
Hulu officially announced "Battleground", an original, exclusive program on Sunday at the Television Critics' Association's winter press tour. Hulu muscled into the two-week long press tour generally reserved for TV journalists and traditional broadcast media.
An original scripted series is new to Hulu for 2012, but the service has carried original content since last year. Last August Hulu streamed its first show, a documentary series from film-maker Morgan Spurlock (Creator of Super Size Me) called "A Day in the Life". Season 2 of A Day in the Life will begin this year.
"Battleground" is a political satire that might be of interest to fans of shows like The Colbert Report. Created by J.D. Walsh, Battleground will have real-world experiences from which to draw for material, the actor once worked on the John Kerry campaign. The show will focus on a hypothetical Democratic primary for U.S. Senate in Wisconsin and will feature many of the insights from many of Walsh's experiences.
"Up to Speed" is another new original program slated for 2012 by Hulu. This show will be an unscripted look at historic travel destination across the US by film-maker Richard Linklater.
New episodes of all three shows are Hulu exclusives, and will be available on both free Hulu and its Hulu Plus service starting next month.
Not to be outdone, Netflix has an original series of its own set to launch on February 6 called Lilyhammer. Starring Steve Van Zandt (Silvio Dante on The Sopranos and guitarist for the E Street Band), this fish-out-of-water story has a New York gangster move to Lillehammer, Norway. You can see the trailer for Lilyhammer, it looks like it might be pretty good, especially for fans of Van Zandt's work on The Sopranos.
Netflix has more original series up its sleeve including House of Cards, produced by David Fincher and starring Kevin Spacey. Netflix has also picked up a new season of Arrested Development, returning the show to your TV for the first time since 2006.
It might be an all-out ratings war between Hulu and Netflix as they resort to original series in their 'war of escalation'. But from the looks of the talent involved in these projects the only collateral damage might be a few laughs for their customers.
Wayde Robson posts on January 18, 2012 20:18
I can't get Pandora up here either, even Netflix in Canada is different... as far as I know.

I'd drop Rogers in a second if subscribing to the online NHL Game Center Live (online) got me all the games... but it doesn't. It only gets me the games that aren't licensed for rebroadcasting anywhere in Canada. That means half the games, especially the good rivalries, don't work on the NHL Game Center, they're blacked out!

Even getting cable doesn't get me all the games because there are games spread across three or four different networks, TSN, Sportsnet and LeafsTV and CBC. You get CBC with basic cable or over air and Sportsnet comes with the basic HD package, but TSN I and II plus LeafsTV are both premium channels you pay extra for.

It's crazy, all those channels together are way too much money. I just want hockey games! Dammit! All in one place, I don't want to have to subscribe to different services and different networks to do it.

I have decided to do without this year and have dropped my cable to the very basic because they stopped letting me buy TSN I a la carte. I draw the line even if it means I miss a few games. To get TSN I and II I have to subscribe to a big package which gets me a bunch of channels I don't want. In fact I don't even want the sports networks, I just want the games.
Nestor posts on January 18, 2012 13:59
I'd honestly be interested in reading a side-by-side comparison of all the major streaming services today.

Unfortunately I can't get them from Canada so I can't give an unbiased look.

Hate Hulu, since they block all of their content up to Canada, even their free embeds.

Frustrating.
nickboros posts on January 18, 2012 11:56
lsiberian;858361
8 dollars is a small price to pay for access to a bunch of TV shows. I could care less if they add commercials. Cable TV adds commercials to pay tv too.
I avoid having cable or satellite subscriptions, just because of this. Before there was streaming or anything like that I set aside $50 to $70 per month, so have a Netflix subscription, and with any other money left over just buy the DVD (movie, TV series or whatever). I don't really watch much sports, so this was fine for me, because I just want to be able to watch what I want when I want and not 7 minutes of a television and 5 minutes of commercials and then repeat. Now many years later I have a pretty large collection of DVD's and Blu-Ray's, while if I would have had the cable subscription for $50 to $70 per month, I would have nothing to show for it. Now that we have a streaming option like Netflix, I am very happy with the content that I can have between streaming and discs in the mail. But the idea that I should pay for content and still watch commercials seems ridiculous to me.
gholt posts on January 18, 2012 10:49
lsiberian;858457
I combine them as an alternative to cable.
I never thought of that that might be a good idea.
lsiberian posts on January 18, 2012 09:15
I'd honestly be interested in reading a side-by-side comparison of all the major streaming services today.

Unfortunately I can't get them from Canada so I can't give an unbiased look.

I combine them as an alternative to cable.