Game Demos Included on Future Blu-ray Releases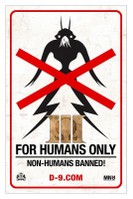 I was renting the movie anyway, now I'm getting in line first.
Enthusiasts have long suggested to their family and friends the PlayStation 3 as one of the better and most affordable Blu-ray players. Lately, prices of Blu-ray players have been coming down but the PS3 is still one of the better options out there. Sony is taking advantage of this by starting to offer game demos on their Blu-ray offerings. While these demos will only be playable on the PS3, it is a value added offering which may help drive sales.
The first such offering will be released on December 29th with the release of the sci-fi thriller District 9. District 9 already has a slew of extras including a Digital Copy of the film for PC, the PSP system (PlayStationPortable), Mac or iPod; the Interactive Map feature "Joburg from Above: Satellite and Schematics of the World of District 9," which provides a highly detailed environmental exploration of the world through a series of interactive satellite maps, technology schematics and photo-real files that take the viewer deeper into the world of the film; and movieIQ, which allows viewers to immediately access continuously updated information on the cast & crew and explore relevant trivia such as production facts, music and soundtrack information all tied to scenes within the movie. In addition it will contain a playable demo of one of the most anticipated PlayStation exclusive game of 2010 - God of War III.
The God of War series has sold more than 8.7 million units to date. The target market for the game and the movie overlap making this pairing a very easy one. In addition to the game demo, users that complete the game will unlock an exclusive making-of featurette about the game. Sony has recently launched their "It Only Does Everything" marketing campaign and this new offering seems to play right into it. Sony has been talking about how their machines are designed to be a "one box" solution since the PS2 but that has never really been realized. With the essentially software subsidized PS3 becoming the price leader for the new Blu-ray standard early in the format war, Sony may finally be realizing their dream.
Recently, Sony has announced support for Netflix Streaming (previously an Xbox 360 exclusive) and already has the ability to download content from the PlayStation Store. Hulu.com support is lacking (as it is everywhere) and currently, just about the only thing you can't do with a PS3 is use it as a DVR.
The God of War III pairing is unique in that it is the first game demo to be included in with a Blu-ray movie. For those with a standalone Blu-ray player, they will not be able to access the game (plus, who wants to control a game with a remote control?) but they will also not be missing out on any of the movie-specific content. Whether this will drive sales of the movie or not remains to be seen. This tactic is not a new one and has been used in theaters where movie will advertise a sneak peak at a forthcoming release to tap into the fans of the more popular movie. The difference, of course, is that the sneak peek requires a full ticket prices while the God of War III demo requires only a rental. District 9 will be released at the normal Blu-ray price of almost $40 (but expect first week sales to be in effect and the actual retail price to be closer to $30). The movie has a running time of approximately 112 minutes and is rated R for 'bloody violence and pervasive language'. While there are surely a lot of fans of the game that wouldn't mind owning the movie (and fans of the movie that wouldn't mind playing the demo) whether or not the fans of the game will spend nearly 1/2 of the price of the game on a demo seems unlikely. With the crossover of the audience, however, it seems likely that District 9 will see more sales because of the demo.
j_garcia posts on November 09, 2009 11:12
Patrick_Wolf;644970
I'm sure it'll all be on one disk, which is a waste of space when there's the PSN. But, how much does a typical PS3 demo take up? 1-2GB. Would be better used for less video compression, but the difference would probably be nil anyway.
I'm sure they will be on the same disc. PSN will eventually have the demo as well, so those who don't pick it up will still be able to download it.
Patrick_Wolf posts on November 09, 2009 09:53
I'm sure it'll all be on one disk, which is a waste of space when there's the PSN. But, how much does a typical PS3 demo take up? 1-2GB. Would be better used for less video compression, but the difference would probably be nil anyway.
jared555 posts on November 08, 2009 15:54
j_garcia;643085
Not if it is on a separate disc
That might happen initially but eventually it is going to be put on the main disk to save money. Hard to see them putting extra expense into it when they are doing their best to save every possible cent on packaging as it is.
HDPCsound posts on November 05, 2009 21:59
Better to buy a 500gb disc for storing demos, audio, video, etc.
You will have more than enough with that.
j_garcia posts on November 04, 2009 14:49
GlocksRock;643015
I say it's a waste of disc space that could better be used for higher bitrate video and audio.
Not if it is on a separate disc