Epson Showcasing a Wide Array of High-Performance Front Projectors at Audioholics SOTU Event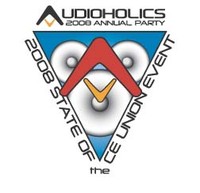 SOTU and Espon
Epson, the world's largest manufacturer of front projectors and makers of 3LCD technology, will be displaying a suite of its top home entertainment projectors at this year's Audioholic's State of the CE Union event in Orlando FL, October 23-24th.
Epson's full range of home cinema products offer a true, big screen, movie theater and multimedia experience for virtually every type of consumer and enthusiast. Whether you want to set up a portable neighborhood movie night in your back yard or want to seamlessly integrate a cinema into your living room, Epson has what you need.
Epson's next generation, flagship Powerlite Home Cinema 7500UB continues Epson's tradition of developing the highest quality home cinema projectors. The 7500UB has an unprecedented 75,000:1 contrast ratio and staggering black levels for the ultimate dedicated cinema experience.
Epson's Home Entertainment products can be found throughout the Audioholics State of the CE Union Trade Show Event. See below for more details.
Europe 5 Yamaha / EMP Demo Room
PowerLite® Home Cinema 7500UB with 2.35:1 Anamorphic Lens Assembly
This is a rare opportunity to see a sneak preview of Epson's newest high-performance 1080p flagship projector. Here's a sneak peek….The 7500UB features the latest-generation Epson D7 platform with C2Fine technology, Ultra Black technology with 75,000:1 contrast – that's the best in the industry, Silicon Optix HQV Reon-VX with PW390 processor, 12 bit panel driver, 120 Hz FineFrame Technology, Anamorphic (vertical stretch) scaling, etc, etc…With too many features to name, you'll have to see this one to believe it.
Europe 6 Epson Demo Room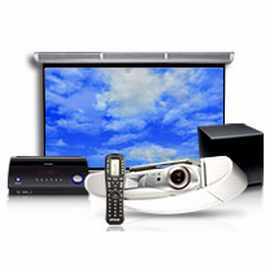 Ensemble HDTM 1080 home cinema system
At last, the high performance home theater of your dreams in finally within reach with Epson's new Ensemble HD home cinema system. Watch your favorite movies, TV shows, sporting events and video games in breathtaking HD on a screen four times the size of a 50" flat panel. Ensemble HD 1080 includes a powerful integrated surround sound system designed by Atlantic Technology and was designed to allow users to simply and seamlessly transform any room into a state-of-the-art home theater for the ultimate cinema experience.
This multiple award winning system has everything you need, including a high-definition Epson PowerLite® Home Cinema 1080p projector, an integrated sound system, a large, motorized movie screen and an AV controller with built-in DVD. It also comes with a universal remote control, an equipment cabinet and all the brackets, cables and wire management tracks you'll need for an easy, unobtrusive, professional installation in as little as four hours.
also on display in Demo Room 1…
Epson MovieMate® 55 projector, DVD and music player combo
The ultimate portable projector, DVD and music player combo, Epson MovieMate 55 delivers all the big-screen drama, sound and excitement you desire — just plug, load and play. Get larger-than-life entertainment with this portable, combo product that includes a built-in progressive scan DVD/CD player and dual Dolby® 5.1 Digital DTS® 8 W stereo speakers. The MovieMate 55 displays an 80-inch, widescreen image from just 7.8 feet away, or a 120-inch image from just 11.8 feet away. MovieMate 55 sets up easily — all you need is an electrical outlet. There are no additional cables or equipment required.
Europe 8 Audyssey Demo Room
PowerLite® Home Cinema 6100
Astounding quality. Amazing value. Experience home entertainment in a whole new way with the Epson PowerLite Home Cinema 6100. Epson's new 1080p projector puts you in the middle of the action with blockbuster brightness and contrast. Whether you enjoy movies, games or sporting events, every image is sure to pop off the screen thanks to Epson's new D7 panel and an impressive 18,000:1 contrast ratio. Enjoy true cinematic adventures. It's easy with Epson's 3LCD, 3-chip optical engine and 1800 lumens of light output, both color and white.* Best of all, with the Epson exclusive Cinema Filter and OptiCinema™ lens by Fujinon — the type typically used by renowned Hollywood filmmakers — you're sure to experience movies like never before. The Home Cinema 6100 is much more energy efficient with a new long-life E-TORL® lamp. And, it offers easy maintenance with an efficient cooling system and convenient dust filtration system. So, bring home the PowerLite Home Cinema 6100, for big-screen entertainment you have to see to believe.
Europe 9 Emotiva Demo Room
PowerLite® Home Cinema 700
Big color. Big quality. Big value. Get amazing big-screen entertainment with the Epson PowerLite Home Cinema 700. This impressive and affordable 720p projector makes it easier than ever to enjoy spectacular movies, games and sporting events in the comfort of your own home. With its 3LCD, 3-chip optical engine, you get rich, vibrant images for a true cinematic adventure. And, with 2000 lumens (both color and white light output), images will shine bright in any room. Invite the neighbors over and experience Hi-Def movies in a whole new way. Or, share photos from your SD card or laptop. With seven customizable color modes, the Home Cinema 700 is ready for any event, whether it's sharing photos or watching your favorite DVD. Setup is simple with its 1.2x optical zoom. And, it's easy to install. The Home Cinema 700 is even energy efficient with a long-life E-TORL™ lamp that lasts up to 4000 hours. That means you save on expenses, without sacrificing quality. So, bring big-screen entertainment home with the Epson PowerLite Home Cinema 700
TICA posts on October 13, 2008 22:06
Hello Everyone.


This is the notice that Banquet Registrations are officially over today at 5 pm.




You can still attend the Trade show (Demos/seminars) for free with onsite registration. However, this would not guarantee any party swags and there is not elegibility for prizes.

Hope to see you all there soon and thanks to all for your support.

TICA


FirstReflection posts on October 13, 2008 10:57
The whole whack of 3LCD projectors coming out this year look very impressive. From Panasonic, Sanyo, Mitsubishi, Epson and others - the level of performance and the lowering of prices has really been impressive!

I'm just really glad to see that over the past couple of years, Epson has decided to really compete, not just in performance (which has always been among the best of the 3LCD crowd), but also in price now (which wasn't always the case).

Last year, the Epson 1080UB was arguably the best 1080 resolution 3LCD projector and it took a good jump up in price to find a better 1080 projector. Even Sony's SXRD models were arguably only a tiny bit better and it was pretty much took the JVC D-iLA models (at a significantly higher price) before there was something clearly better than the Epson.

This year, it looks like the same will hold true. Epson's 7500UB (Pro installer version) and 6500UB (home/internet retailer version) would appear to be the cream of the 3LCD crop. Although Panasonic's AE3000U is looking mighty impressive at a very agressively low price point.

In the end, what you should really take away from this is that - in the right room environment - front projection has become the absolute highest value. If you think about the cost of a > 55" flat panel, you can get a screen WAY larger than that for a lower price with front projection now. And best of all, you'd give up virtually no picture quality these days! You do need a dark room - that is an absolute must and the only real caveat. But if you have that, front projection is golden!