Emotiva Amps on Sale!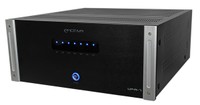 Think how good that would look in your home theater...
If you are anything like me, the single most coveted component in a home theater setup are amplifiers. If I had the money, I'd collect them like some people collect stamps or unicorns. The pretty blue lights, the industrial construction, the sense of pent up power just waiting to be released. There is just something about amps that tickles the imagination of all home theater enthusiasts. Too bad they are so expensive.
Or are they?
Emotiva has often been touted as the "affordable" amplifier and processor company. When the "affordable" company has a sale, it's time to bust out the checkbook and write two checks - one to Emotiva and one to the jeweler (you married guys know what I'm talking about).

Emotiva has two amps on sale right now. The already unbelievably low priced XPA-3 three-channel amp is pushing 200 watts per channel and would be perfect for you two channel guys and gals or maybe to power the front three channels on a home theater setup. Normally $649 (I know, that's just over a dollar a watt), it's now going for $499.  This is an affordable way to supercharge your A/V receiver.  Give it a break and let the XPA-3 power the most demanding front three channels.  You're receiver will thank you for it!

Next up, if you have a full 7.1 setup and have always wanted a full fledged separates setup, this is your chance to pick up the amplifier. The UPA-7 pushes 125 watts into 7 channels and sports the industrial look and build quality that has made Emotiva famous and their owners the envy of their friends. For only $549 (normally $649) it can be yours.

The thing about amps is that they are forever. A good amp will always be a good amp and you can always find a use for it. Emotiva makes good (nay, Great) amps. This is your chance to get one at an incredible price. Don't hate yourself for missing this deal. You know you will.

For more information, visit http://www.emotiva.com/.
See also:
Shock posts on March 05, 2009 14:55
HAHAHA Who changed my post!? Mike I'm looking in your direction.
just-some-guy posts on March 03, 2009 21:23
is the sale over ? only a few days notice ? darn ?
WmAx posts on January 28, 2009 21:52
Matt34;515693
Looks like I'm going to have to pick up a XPA-3 for that price, use it to power my front L/C/R. I love pro-amps but damn are they ugly.
If you are going to use a DCX2496 to connect to the Emotiva, remember, the Emotiva has no attenuator control. This means even though the Emotiva has XLR inputs, you will likely have to use attenuators between the DCX outputs and Emotiva inputs or you will end up with hiss due to the very high sensitivity of the Emotiva inputs combined with the high output voltage of the DCX outputs.. This is the reported experience I have from some users with this combination. Pro amps, having gain/attenuator controls on the inputs, operate silently since you can decrease the input sensitivity.
And what is ugly about Yamaha P****S series amplifiers?
-Chris
MidnightSensi posts on January 28, 2009 21:34
I wonder when they are going to figure out that the person who isn't going to buy an amplifier at 650 won't at 500 either. Few are spending in that price range. I'd say the economy and warranty from their broken stuff would close them up, but, when your overhead is helping mom take out the trash who knows. Sorry, couldn't resist.
Alex2507 posts on January 28, 2009 21:18
Adam;515955
What's with the sarcasm? I was asking a polite and legitimate question. I figured that the admin posted that price for a reason, and perhaps there was a way to get that deal that wasn't on Emotiva's website.
No good deed goes unpunished.
When it's happening to you, I think it's funny.
When it's happening to me, not so much.