eD Considers WAF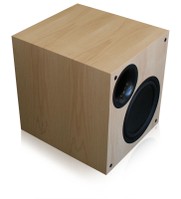 Hey, that sub isn't black?!?
Elemental Designs (eD), the company that has arguably caused more spousal conflicts than any other single online subwoofer manufacturer has finally decided to give their customers finish options over the standard black.
eD has long been known for low priced but HUGE subwoofers. If you are looking for bass, eD is a one stop shop. Unfortunately, they have also be fairly "bachelor-centric" has their subs are often very, very large, hard to place, and only come in black. Lately, they have been innovating their sub designs by providing subs with smaller footprints (tall instead of deep) and much smaller sub offerings. According to their blog, they are now taking the next step and offering real wood veneers to some of their subs.
eD has been a pioneer when it comes to building greener subs. While they pollute, it's the good kind (noise) and not the bad kind (harmful chemicals). Instead of using MDF which is pretty much standard for every other speaker manufacturer on the planet, they have switched to EFS (stands for Environmentally Friendly Substrate). According to eD:
EFS is created using a different process than MDF, and it does not contain urea-formaldehyde which is the bonding agent used as MDF is baked into the panels commonly used in construction. Without using urea-formaldehyde EFS is also a safer material for us to work with as well; because it does not emit the fumes while we are building enclosures. EFS is also built using whole wood logs (these are logs not suitable for construction in raw form), wood chips, and sawmill waste. The differences in the process add some interesting attributes to EFS; it actually ends up having a higher density than MDF as well.
The exact veneers that will be offered and on which models has not been announced as of this writing but check out the eD website on October 1st 2009 for specifics. According to eD, they will be offering a clear coat water-based finish on the veneer that will be hand applied at their factory in Iowa. Custom cabinets and veneers will likely be supported. Expect to pay a premium over the standard black finish for the veneer and a premium over that for custom. The sub in the picture is the A3-300 in a birch veneer that was flat (instead of rolled) cut. The finish is the satin water-based poly that you can expect from future offerings. Birch is unlikely to be one of the standard finishes. For more information please visit the eD blog.
garebear posts on October 01, 2009 18:43
I love my Ed sub. I am glad to see that they are giving people more options.
djreef posts on October 01, 2009 12:37
I know, for me personally, WAF was a big consideration when I looked into taking care of my eD.

DJ
cwall99 posts on October 01, 2009 12:02
I'm lucky in that my wife likes all my black speakers. Currently, the sub (not an eD sub - geez, that's such an unfortunate acronym in the Age of Viagra) is back in a corner, behind a chair, and so doesn't command a lot of visual attention. It's not a very good sub, either, so the corner position helps boost its output.

If and when I ever get the money together for a real subwoofer, things may change.