E3 2009: Sony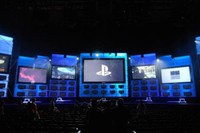 Sony at E3 - more of the same?
Sony was in good spirits in spite of the fact that many of their hush-hush announcements were already, well, announced. They even joked that they are trying to be the best at everything, even leaking information. That's not to say there weren't a few surprises. The first was that the Sony press conference was nearly the length of the other two combined! Thanks Sony, no one can talk about themselves the way you can.
Part of this hinges on the fact that they are the only manufacturer with three consoles on the market. Why are we still talking about the PS2? Because they are still making games for the thing! With a reported 100+ titles scheduled for the next year, the little console that could is showing no signs of going anywhere. For those that are keeping score, this IS the 9th year of the PS2 but don't expect there to be a retirement party next year at E3. With the $99 console outselling the next generation consoles last year, you can bet that "10 year lifecycle" talk will quickly morph into "15 year" or "we'll beat it until it's just bones."
To finish off the two consoles I personally don't care a whiff about, the PSP is getting a new iteration labeled Go. The PSP Go is smaller, has a slide out keypad, WiFi, 16 gigs of memory and a memory stick port, and everything the DS has except a stylus and a second screen. It's 50% smaller and 40% lighter than the PSP1000 and will retail at $249. This handheld will be completely backwards compatible with UMD movies and PSP games. There will be a number of new games coming out for the PSP including a Gran Turismo title and a Metal Gear one. Metal Gear Solid: Peace Walker is set 10 years after MGS3 (in the 70's on Costa Rica no less) and is the true sequel in the series.
The PS3 has a lot of exciting 3rd party titles coming out for it like Lost Planet 2 (2010), Agent (from GTA creator Rockstar Games also set in late 70's), ModNation Racers (an easy to play cart racer with tons of ability to create and share character design, cars, and tracks), Gran Turismo 5, and The Last Guardian. The Last Guardian is from the same people that brought you Eco and Colossus and looks to have all the character and design. The story seems to revolve around a boy and his huge dog/griffin. It looked like it was a mixture of stealth/puzzles though I suspect some driving/shooting elements on the griffin are to be expected. Note - if they were wondering, I vote against using the six-axis control. That's just me.
Surely two of the most anticipated announcements that just about everyone had already seen were Uncharted 2: Among Thieves and MAG. Uncharted 2 looked very cool with lots of stealth, shooting, and platforming elements. The inclusion of Claudia Black's voice didn't hurt either. A mention of competitive and cooperative modes was a nice touch as playing through the game with another player would be a nice addition. MAG we saw last year at E3 but this time we got a live 256 player demo. From what I could tell, they weren't able to switch between characters during the demo but the character they did follow showed a lot. The idea is that you have up to 256 players at a time split into separate squads all working towards a common goal. There is a command structure and extra points for following orders (I saw a number of XP counts shown as objectives were achieved - not sure if that means there will be leveling ability of your character or not). While death is to be expected, like in all first person shooters, you respawn. The nice part is that your spawn point moves with your team. As you advance, where you respawn advances with you. That's a pretty nice feature as the maps are large enough that you could die and spend many minutes running back to the fray. MAG is set for a fall release.
There were tons of third party games mentioned including Modern Warfare 2, Ratchet and Clank Future: A Crack in Time, Batman Arkham Asylum, Heavy Rain, Rock Band: The Beatles, Assassins Creed 2 (set to release this holiday season), and Final Fantasy XIII (2010). That last one, in particular, has been irksome because it is the first FF title to show up anywhere BUT on a Playstation. Well, in a move that finally shocked the audience, Sony announced that the same year, Final Fantasy XIV will be released as a Sony Exclusive! Huge news considering the battering they took over the apparent loss of the Final Fantasy franchise and with Metal Gear Solid now showing up everywhere.
They talked about the Playstation Network and how cool it is, how many people use it, how many downloads and such. The only really interesting thing here was that they are bringing back 50 PS1 classics to download including the iconic Final Fantasy VII.
Once again, we were buffeted with the mii too announcement of a motion controller for the PS3. While Microsoft is going with no controller at all and just a camera and a mic, Sony is going with a camera and two handheld controllers. Each of the controllers has a ball on top that can glow in a number of colors. Like the Wii MotionPlus, these controllers are very precise with their movements though the demo (like all the others) wasn't without it's glitches. The tech guy could barely hit anything with the controllers probably due mostly to a lack of a aiming reticular during some of the tech demos.
The neatest thing about the new motion controllers was that they could show on the screen the video of you holding it and overlay a cartoony weapon. Gaming applications are pretty limited but it was cool. It's hard to know if this will really compete with the Wii as it is meant to. It requires a camera and the additional controllers. There was no real indication that the controllers would be integrated into the overall running of the PS3 like Microsoft suggested with there's. Regardless, Nintendo has more than a head start on the motion control front so don't be surprised if these controllers turn out to be forgotten relics a few years after they are released in spring 2010.
With all the big players announcing (or already having) motion controllers, Sony's offering seemed to be the least impressive of the bunch. While they claim it is the best (and maybe it is), from what I can tell it is a Wii Motion Plus with a camera. Sony seems to be heading into this segment reluctantly and I for one would rather them do it right or not at all (mostly the latter as I think both Microsoft and Sony are wasting their time trying to pull people away from the Wii).
No one was surprised that they waited until the end to show off the God of War 3 demo. Scheduled to be released March 2010 (which means they'll be bragging about the sales of it at the next E3) the demo was more than impressive. Game play looked very interesting (if linear) and the graphics were astounding. Frankly, the quick-time events really looked to be worth it in the end as they usually resulted in a Mortal Kombat quality death for your opponent. Fans of the series have a lot to look forward to on this one.
Conclusion
The constant theme of the Sony press conference was, "Only possible on PS3" stressing the power of the console. No one (in their right mind at least) would argue that Sony's console has the most raw power on the block. But when they are talking about cart racers... well it is a bit of a stretch. One thing that was sorely missing was the DC Universe Online which was there in pictures and short cutscenes but never mentioned. While Sony fared better in my mind that Microsoft, they didn't exactly blow my socks off. Plagued with sequels, the next year motto seems to be "more of the same... but slightly better." I'm sure there are going to be a lot of great games (more than a few I'll probably pick up) but there was no "killer app" at this E3 like we had last year with Little Big Planet.
xinrerge posts on June 21, 2009 05:46
Ito;584298
I think you mean FFXIV, cause Final Fantasy 4 is nothing new
Opps! Yeah haha! I think I got carried away when I saw the trailer for FF XIV.:o
WmAx posts on June 19, 2009 20:16
Uncharted 2 looks better than anything I have ever seen. I just hope what they showed/claimed in the videos and stills actually translates to true live game play. The apparent raw rendered poylgons in the characters and environments looks rather incredible combined with superb lighting and texture - with perhaps a tiny bit of excessive aliasing. Frankly, it almost looks like a CGI movie - so that's why I wonder if the actual game will be exactly like the stills and videos demonstrated. So far, it looks like the single most desirable game (to me) coming out soon, followed by God of War III.

-Chris
Ito posts on June 19, 2009 00:53
xinrerge;584118
I missed seeing E3 but I was shocked when I heard that FFIV was part of the show. Haven't tried FFXI yet but it seems like both series have the same concept.
I think you mean FFXIV, cause Final Fantasy 4 is nothing new
xinrerge posts on June 18, 2009 17:11
I missed seeing E3 but I was shocked when I heard that FFIV was part of the show. Haven't tried FFXI yet but it seems like both series have the same concept.
PaRaman posts on June 05, 2009 01:01
I have spent three days searching for some common reason for this.its help me